Prints to you - The Snap Truck
Published: 1 September 2019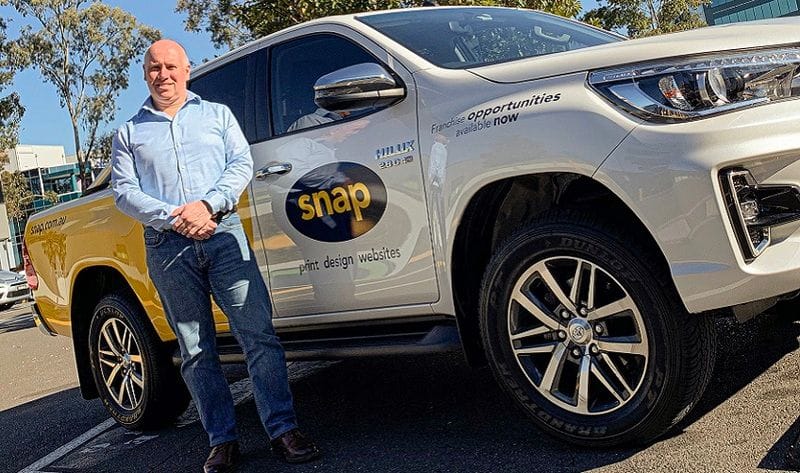 Damien Cook's desire to create stronger relationships with customers led him to challenge the traditional printing business model and go mobile - and it seems he's onto something. With his wife Leanne, franchisee Damien owns three Snap Centres across Sydney: one in Silverwater, one in Bankstown and one in the CBD's Castlereagh Street. In late 2017, Damien removed production out of Bankstown to become a sales office only, followed by closing the Silverwater branch in early 2019. Now, he runs the entire business out of the CBD store and a Toyota Hilux, now dubbed 'the Snap truck'.
Going mobile
Before joining Snap, Damien spent more than a decade working in sales in the telecommunications industry. There, he learned what's at the centre of success for every business: the ability to network and form meaningful relationships with people.
Branching out on his own years later gave him the chance to put this to the test.
"I'd always wanted to run my own business so that I could be in control of my destiny," he says. "The main benefit of being a franchise owner is that you're your own boss. You have the freedom and responsibility of making your own decisions, plus you have the franchise systems and processes in place for support."
He adds that the journey has been just as rewarding as he'd imagined.
"I really enjoy running my own business and the variety of work that comes with it. I've got a good team around me, and over the years we've grown and improved the way we operate. I enjoy the interaction with clients, providing solutions and building relationships with them."
For Damien, that might just be the best part: working with great people, both within his own team and his long-term clients. And his passion hasn't gone unnoticed: only a few years ago, the franchise network awarded Damien the title 'Sales Person of the Year'.
However, over time he noticed that the majority of work was coming in by phone and email.
"Customers rarely came in to see us," he says. So, in an effort to recreate those all-important face-to-face interactions, he and Leanne decided to centralise their production and hit the road.
"The lease [at Silverwater] was up, and we decided not to renew it. We chatted with Snap head office about running it as a mobile site," he says.
This meant, Damien and his team could go out to see customers, whether they're SMEs, corporate or government, at their offices and deliver jobs directly to them.
"We were suddenly able to go and see people more often and build those relationships."
The benefits became clear quite quickly, too, like an increase in sales, efficiency in running the equipment and being able to deliver a better service to clients.
From truck to production
Damien credits efficiency for the success of his new business structure. Instead of having his team manage equipment and the day-to-day operations of three bricks-and-mortar stores, the same staff can turn their full attention to their clients' needs. However, having a base in the CBD has also been an important factor.
"Our sales staff go, see clients and create custom print solutions," Damien explains. "Then, we process jobs out of our city office."
He has yet to find any disadvantages to going mobile, saying it's been an utterly positive experience for his customers and team culture. According to Damien, the repeat sales and customer satisfaction levels speak for themselves as the business works to create full branding experiences for clients.
"We make customers happy by helping them with the full gamut of print work: anything from business cards to signage, booklets, training materials," Damien says.
So what's next for the Snap truck?
"Our focus is now on being more proactive with going out to target key contacts and develop new business," he says.
Well, Damien, we can't wait to see where the road will take you.
Keen to learn more about print? Read more stories like this in our Snap News Centre.