Print and digital: The power of integrated marketing
Published: 7 January 2019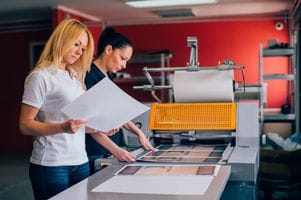 As audiences become increasingly numb to traditional digital advertising, print is having a resurgence. However, that doesn't mean you have to choose between the two. Today, thanks to advances in technology, you can get the best of both worlds by integrating digital and print marketing campaigns. Here's why you too should jump on the integration band wagon.
Why combine print and digital marketing?
Integrating digital and print into one awe-inspiring marketing campaign can open up a whole new world of creative possibilities. Additionally, running one campaign across different digital and print mediums can increase your audience reach and thus amplify its overall impact. It also gets your audience actively involved by adding interactive elements to your ads.
How to integrate print and digital effectively
1. Encourage digital opt-ins through print
Unlike online advertising, print ads can speak to three of our five senses: sight, touch and smell. As such, print ads create multi-level experiences we are more likely to remember. As a marketer, you can leverage this connection and invite readers to take action online after seeing your ad on paper.
You could, for example, ask viewers to visit a landing page, subscribe to your newsletter or follow your social pages. Alternatively, you could add a QR code or custom hashtag to your print ad that encourages people to engage with your brand online.
2. Advertise digital assets on promotional items
When it comes to integrating print and digital, try to think outside the paper-verse. For instance, by printing your web address, social handles and hashtags on vehicles, t-shirts, backpacks, pens and calendars and other promotional items. You could also offer these items as loyalty rewards or prizes in online competitions, which can strengthen your customer relationships and reinforce your brand image across your channels.
3. Leverage social media
If you have a strong social media following, your social channels can be highly effective for launching larger campaigns to a wider audience in a short amount of time. In the lead up to the launch, teaser ads can help increase anticipation while custom hashtags and incentives encourage followers to share and actively engage with your campaign.
For example, Coldplay used social media to turn their Ghost Stories album release into an international lyric hunt by hiding words to songs in ghost story books in libraries across nine countries. They also gave away a golden ticket for their concert in London.
4. Create specialty magazines linked to digital
Although the print magazines are struggling, the interest in speciality magazines appears to be growing. A number of online-focused businesses have created print publications with prospering readerships, such as Airbnb's Pineapple travel magazine or Net-a-Porter's monthly high-gloss fashion magazine, Porter.
There's even magazine content that you can instantly 'like' on Facebook. The Brazilian fashion store C&A partnered with Microsoft to create a special magazine with content that allowed Facebook followers to like their favourite looks via a button (and integrated chip) on the spread.
5. Get creative with mobile apps
Mobile apps allow potential and existing customers to engage and learn more about a brand, product or service in a more interactive and playful manner. Volkswagen, for example, came up with an app that let viewers 'test drive' a car over the top of their roadmap print ad using their smart phone. The skincare brand Nivea used a mobile app linked to a GPS bracelet that allowed you to track your child's whereabouts on the beach.
Integrating digital and print can create a whole new range of exciting experiences for both marketers and consumers. In the end, those who embrace the best of both are more likely to see the greatest gains in brand awareness, audience engagement and sales.