Make your prints pop with vinyl
Published: 8 May 2019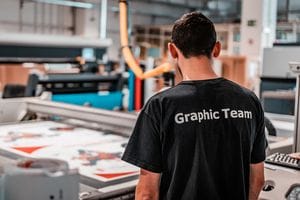 Paper may be the most common print material, but it's not the only one to make your designs pop. In fact, depending on the job, other printable materials may actually be better suited. Vinyl, for example, is a lot more rigid than common paper stock, which enhances the longevity of your print and makes it suitable for both indoor and outdoor use.
At the same time, printable vinyl films are easy to apply and remove from most smooth surfaces, including interior walls, windows and vehicles. What's more, vinyl boasts a variety of finishes to help you bring your prints to life. Here are five examples.
1. Printable perforated film
Chances are you've seen these before quite likely on your daily commute to work. Perforated film is a popular material used for out-of-home (OOH) advertising on buses, trains and even shop windows. The material composition of this film allows your prints to shine from one side while still appearing see-through from the other. On public transport, this allows advertisers to promote their offering to pedestrians in a myriad of locations, while still allowing passengers to enjoy the view.
2. Printable opaque film
Unlike perforated film, an opaque film has no see-through qualities. This kind of film does not permit any light, natural or artificial, to shine through, resulting in a solid, saturated colour finish. Needless to say, this option is a great choice for OOH advertising on bus and tram shelters, train stations, permanent or temporary window advertising, and even vehicles. It can also be used to produce whole car wraps.
3. Printable transparent film
As the name suggests, transparent film uses partially see-through vinyl that allows you to see what's on the other side of the glass. This stand-out feature makes it a particularly good choice for large display windows as the film prevents neither light (nor curious looks) from getting through.
4. Printable reflective film
If you're looking for something that can be seen after dark, a reflective film is probably the best choice for you. Although prints on reflective vinyl don't appear luminescent during the day, it lights up as soon as it comes in contact with artificial light at night. This kind of film is usually used on road signs.
Here, it's important to note that to achieve the reflective qualities of this film, the colours of your print may vary slightly in different settings. White, for example, can appear faintly grey or pearlescent, whereas black in its reflective state may have a bit of a brown hue. That's because the colour black is the absence of light and doesn't have any reflective qualities per se.
5. Printable translucent film
It's easy to confuse translucent film with transparent film, but the two of them are in fact nothing alike. Translucent vinyl allows light to shine through from one side, therefore, illuminating the print on the other side. However, the colours of the print itself remain solid, not revealing what's behind them. Hence, translucent materials are often used for back-lit signs and other illuminated print features.
If one day you feel like paper can't do the job, don't fret: printable vinyl films could save the day.
Want to learn more about printable films? Speak to our experts at your local Snap Centre.
Author:
Snap Franchising Ltd