Know Your GSM Paper Stock
Published: 2 May 2016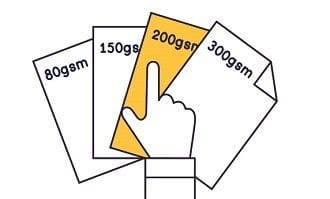 Choosing the right paper for your printed material can be tricky. It's a crucial part of your finished product and will influence your design from the very beginning. Don't underestimate the importance of choosing the right paper for your work, here's why.
Paper choice by GSM
It isn't widely known, but there are literally hundreds of different paper combinations to choose from. And if you don't know your A to Z's of paper (don't worry, not many people do), this is going to be confusing.
So let's break it down. First choose your paper sizes and weight. What are you printing? Is it a report? Is it a brochure? Is it a business card? Here's a rough guide:
80-110 GSM: the most common weight used for all general printing, including letterheads. Too thin for a lot of colour, your not exactly going to 'wow' anyone using this standard weight, but it is the most cost effective paper to use for your reports and larger runs.
120-210 GSM: the perfect weight for brochures and presentations. This range of paper is great for double sided printing too, with minimal show-through.
250-300+ GSM: we're in business card territory here with 250-300 GSM being the most conventional business card weight. The lighter of this range is great for posters too, and you're unlikely to see any rips or tears in its lifetime. If you're after a really impressive, heavy business card this is your range. Also great for front and back covers for your reports and presentations. A nice tip here for reports is to print your company logo/cover page on a heavy back and front cover and really 'wow' your reader.
Type of paper
Now that you've picked your paperweight, the exciting part begins. It's now time to choose the finish of your paper, and again, whilst there are hundreds of different finishes - we'll put it simply for you: coated or uncoated?
Basically, the choice here is do you want your final execution to turn heads? While an uncoated paper stock is completely acceptable - you're not exactly setting the world on fire and the execution you've spent so much time on might just slip into that normality category.
Did this help?
Always seek professional advice before printing. Take your time when choosing, and remember your budget and consider the price difference between different paper.
Check with your local Snap Centre to see what they recommend and what they have in stock. Now you're armed with knowledge, what are you waiting for?