How print can make your presentations stand out
Published: 9 March 2020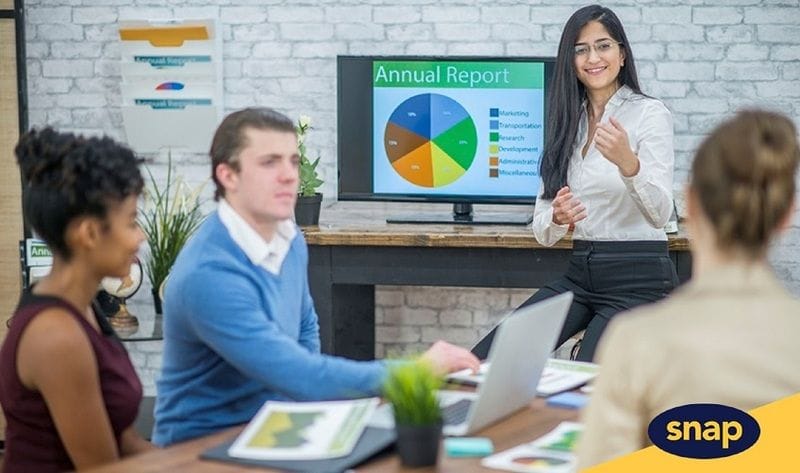 Whether you're about to walk into an important meeting, give a sales pitch or exhibit your work at a trade show, print can help you get your point across and leave a long-lasting impression on colleagues, partners and potential clients. Here's how.
Why use print for presentations?
Print adds an interactive layer to your presentations that a verbal show-and-tell can't provide. It gives your audience a tactile element to flip through during your presentation, take home afterwards and review at a later stage when they've had time to digest the flood of information. What's more, a supporting bound document - like a flip book or pitch book - appeals to more senses and, thus, can help us retain relevant information for longer.
A flip or pitch book also allows you to regulate the flow of information you want to present to your audience, just like a magazine or newspaper. However, the best part might be that it's low-tech, meaning they have a longer shelf-life than digital documents and are immune to involuntary technical glitches since they don't rely on electricity, computer servers or batteries.
How to use print for presentations
Printing supporting documents for showcases and presentations is popular in many industries, such as finance, fashion, design, real estate and property development - but of course, it doesn't end there. Depending on your line of work and the purpose of your presentation, there are many different ways to utilise print to your advantage. You could, for example, produce swatch or look books that give your clients a preview of your upcoming products or even create a beautifully bound print edition of your annual forecast presentation.
There's many ways to make your print stand out once your document has been prepared for printing. Generally, selecting a beautiful paper finish and the right binding is a good place to start when bringing it all together. Spiral coil or wire-o bindings are popular methods for holding presentation slides and notes together as they allow the pages to turn easily and lie completely flat once a spread has been opened. This usually means that the opposing pages align perfectly, which comes in handy for documents that contain overlapping page elements.
If you're looking for something a little more out of the ordinary, you could also use the same kind of binding to create an A-shaped flip book, similar to a freestanding desk calendar. This can add a decorative element to your document.
Depending on the objective or your meeting or presentation, you might prefer something a little more permanent and solid-looking. In this case, a tape-bound or perfect bound book might be better solution. These types of bindings are more resilient and convey a more sophisticated vibe.
Regardless of what paper or binding you choose, a beautifully designed and printed supporting document can help you create a more memorable experience for your audience.
Contact your local Snap Centre to learn more about making your prints stand out.