Here's how our Centres Snap Out of the Cold
Published: 15 June 2012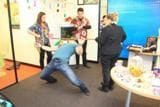 Winter Competition
Fridays are party days at Snap Liverpool, the team holding Hawaiian Luaus each week to promote the Snap out of the Cold campaign.
Selected clients are invited to dress Hawaiian and enjoy pizzas (Hawaiian of course), Pina Coladas and partake in a limbo competition.
Snap Liverpool owner Daniel Garvey said the get togethers were a good way of building relationships with clients in a fun environment.
"We have some fantastic clients, but we don't often get a real chance to thank them for their business," Daniel said.
"The Snap out of the Cold promotion gave us the idea to bring some sunshine into the winter each week."
Daniel said the first Snap out of the Cold Luau, held last Friday was a great success and he was looking forward to doing it again this week.
"Having a limbo competition was a great way to break the ice and our guests gave us some fantastic feedback".
It may be icy cold outside but inside at Snap Wodonga one could be mistaken for thinking they were somewhere a lot warmer.
The team have all caught Hawaiian fever with the Centre and staff all dressed up to promote the Snap out of the Cold campaign.
Centre owner Greg Barlow said everyone was getting in the spirit despite temperatures dropping below zero.
"We are all dressed in Hawaiian shirts but maybe we need Hawaiian jumpers," Greg said.
Greg added that there has been a great response from clients.
"The Centre looks great, everyone is upbeat and clients are enjoying the colour."
"The thought of winning a trip to Hawaii certainly appeals this time of the year and clients have been asking about how they can enter," Greg said.
The Snap out of the Cold promotion is being run through all Snap Centres across Australia. Clients who place an order with Snap during June 2012 can enter to win one of five trips to Hawaii.
For more information visit www.snap.com.au