Farewell to a friend of Snap
Published: 8 March 2013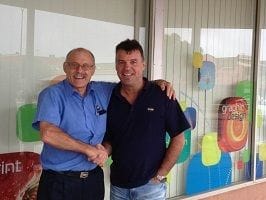 Snap enjoys a lengthy relationship with many of our Franchise Owners, and while it is always sad to say goodbye, it is also great to wish them well in their future endeavours. Recently we farewelled Mike Clark from Snap Kalgoorlie, who sent us the following note reflecting on his time at Snap:
"I look back on my sixteen years as a franchisee with a great deal of pleasure. The road was hard to begin with and it took me a long time to climb on top. I had advice and guidance which often helped and sometimes irritated! But looking back I realised that the advice was invariably sound. I have really enjoyed being part of the 'Snap family' especially the incentive trips. I finish with regret age has caught up with me I leave with wonderful memories.

Best regards,
Michael Clark
Outgoing Franchise Owner, Snap Kalgoorlie"