Business card research: How people judge you by your calling card
Published: 29 August 2018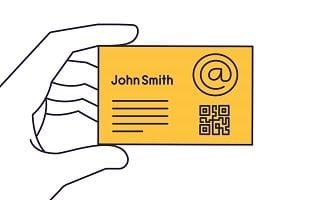 We're often told not to judge a book by it's cover. But it's difficult when, every day, our brain naturally makes snap judgements. Just ask people with tattoos, attractive blondes and singer Susan Boyle.
Business cards aren't immune to being given the once over and judged on their appearance.
More importantly, the verdict that people reach about a business card they are handed directly reflects their view of its owner.
In a recent study by the Statistic Brain Research Institute:
72% judge a business or person based on card
39% won't do business with a person who has a cheap card
Sounds harsh, but that's humans for you.
How to make your business card (and yourself) more likeable
So how do you make your business card look professional, trustworthy and entice people to do business with you?
The first step is to include the must-haves. The second is to consider some smart practices that help your card stand out in a busy room of networkers and handshakers.
7 vital elements of a business card
To satisfy the varying needs of potential clients, suppliers, partners, media and more, your card should include details such as:
Name
Job title
Logo
Contact details
Social profile details
What your business does
Call to action
People will always turn business cards over to see what's on the other side. So, make use of both sides and feel free to split these details above across both sides to avoid clutter and enhance the visual appeal of the card.
Business card best practices to capture attention and business
Including the elements above helps people understand who you are, what you do, if you sound like someone who can help them and how to get in touch.
But that doesn't necessarily mean they'll read your card in the first place, or consider you and your business a cut above the rest.
Here are some ways to make a big first and lasting impression:
Coloured cards
Does colour really matter? A study in Canada found that up to 90% of snap judgments made about products are based on colour alone.
The idea that someone could decide to do business with you based on whether you use blue or green in your marketing is something every business owner should pay some attention to.
The Statistic Brain Research Institute study found that colour has a big impact when it comes to business cards too with:
78% of people saying they find coloured cards more memorable than white ones.
A photo of yourself
This is a controversial idea because some people feel it can come across as narcissistic, cheesy, or both.
On the other hand, we're naturally drawn to human faces and people remember them far more than most business cards. So, it can be an effective marketing tactic for people who work in industries where they need to be remembered by face. For example:
real estate
Sales
entertainment
public speaker
social media influencer
Plus, if your job involves a lot of networking and attending events where people receive lots of cards but often can't attach them to a face.
If you decide to go down the photo path, be sure to get a professional shot that also looks natural and welcoming.
Unusual and intricate print finishes
Probably the most effective way to instantly fire up the minds of your audience is to add unexpected and attractive embellished finishes to your card.
For example, text, logos or images:
floating on the surface like honey drops
shimmering under reflections off lights
glittering in gold or silver, elevated from the surface
The reason they work so well is because our brains can't immediately process what's happening so we need to look closer and discover what how it's possible.
When that curiosity is ignited, people also want to discover more about who's behind it.
With the latest technology, it's now possible for even solo businesses to have business cards with beautiful, tactile print finishes on a tight budget and short run.
Put value on your business card
Finally, even though you may have hundreds of cards, don't take them for granted and hand them out to everyone. Think of it as leaving part of you with the receiver. Here are some rough guides to consider:
Choose wisely who you hand your card too
Give a card to people who shake your hand
Ask for one in return (showing interest in them can boost their interest in you)
Always keep a few cards on you (even on holiday)
While there's no one perfect business card for everyone, there are lots of things you can do to make your card (and you) more attention grabbing, interesting and appealing.
By including the right information and using best practice marketing tactics your business card can quickly become an invaluable sales, marketing and branding tool.
And if you need some expert business card design help, contact your local Snap Centre today.
Author:
Snap Franchising Ltd