Buy local this Christmas: 8 corporate gift ideas you'll love
Published: 1 December 2020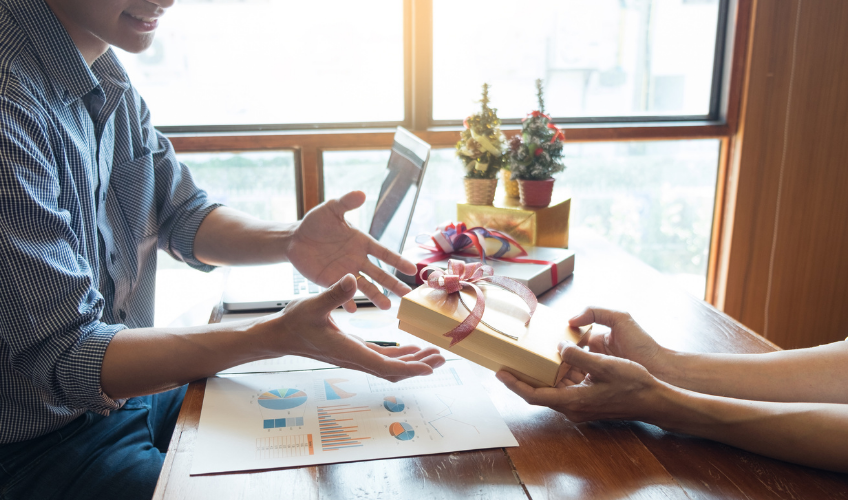 Do you need a Christmas present idea for your staff, colleagues, or customers this year? Yes, Christmas is a short time away and it is the time to think about all thing's gifts to help cement relationships.
The ultimate Christmas offerings in 2020 are home grown. Buying from local businesses is just what is needed now to support our community PLUS you'll find many unique and fabulous options.
We've put together eight ideas to inspire you. Don't leave it until the last minute, get a head start now!

1. Coffee cards from your local coffee spot - a months' worth of coffee!!
Visit your local café to organise a coffee card for each of your staff members. Your team will thank you for it long after they return to work in January.
2. Treatments at your local spa or beauty salon
2020 has been a full-on year and everyone needs a little TLC. Visit your local spa or beauty salon to line up some gift cards for a 30-minute massage or facial (appeals to men and women!)
3. Hampers from your independent local grocer
There's nothing better than home grown Aussie produce! Imagine cherries, mangos, olive oil, a chocolate treat and a bottle of sparkling. Beautiful!

4. Corporate Christmas cards designed especially for your business
Don't just buy off the shelf Christmas cards made overseas. Visit your local printer and organise some locally printed Christmas cards that can even be personalised with your logo and more. At SNAP, we also able to organise charity cards for you.

5. Local artworks
Creatives have been hit hard by COVID so it might be time to look at local artwork options as gifts. There are many to choose from ranging from earrings and necklaces to one off artworks and crockery. Plus, they are often sold by small, local businesses so your presents are bound to be unique.

6. Desk, wall or tent calendars
Speaking of creative, why not develop your very own calendar? What a great way to remind your team or customers about your business every day of 2021! Plus, these can be made right here in Australia.

7. Homemade biscuits and cakes
Gourmet biscuits or cakes can be packaged up into good looking boxes for a unique and tasty gift. You can even have them made with personal messages. Best to get in now with your order as these are proving popular this year.

8. Personalised water bottles
There is nothing better than a personalised water bottle, and not just any water bottle but a fancy stainless-steel bottle with a leak proof lid! Imagine your customer having one of these on their desk with your company name on it (and perhaps their name)?
We are all about supporting Australian owned and made this holiday season. One of the reasons is that SNAP is made up of over 130 locally owned and run small businesses across Australia. This is why we are a founding partner of Small Business Australia's "Buy Local" initiative. If you're a local Australian business and want to be a part of the Buy Local initiative, get involved and receive a free "Buy Local" starter kit. And, remember this Christmas to #buylocal.
Author:
Snap Print & Design