12 Christmas business and marketing ideas to lift leads, sales and merriment
Published: 7 November 2018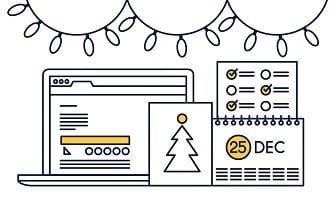 You're probably not ready to hear it but, yes, Christmas is just a handful of weeks around the corner.
And, no doubt, you've got a lot more on your plate than a few Santa cookies.
So, we've put together some fun Christmas promotional ideas to help you and your team get the most out of the season - and spread festive cheer amongst your customers and suppliers.
Add a Christmas countdown on your social pages and site
You can use some fun graphics or video with a countdown to remind customers that Christmas is hurtling their way (or deals are about to finish) - without adding to the stress of the season.
Post them on social sites such as Twitter, Facebook and Instagram. As you get closer to Christmas consider making your homepage header a countdown clock too.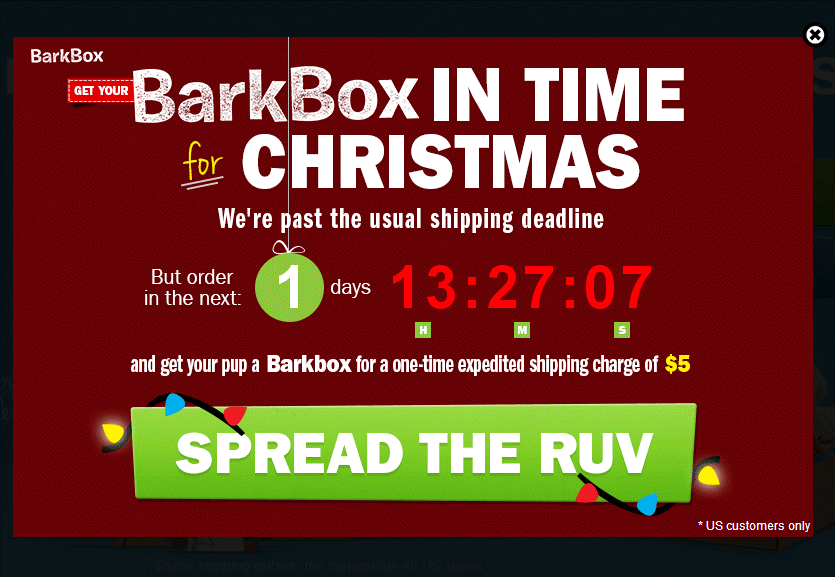 Host a breakfast or brunch
Plenty of businesses hold Christmas lunches, drinks and dinners. But many people would prefer to be with their friends or family at those times especially if they have a busy silly season.
Do something a little different with a morning event. People are fresher (after a coffee anyway) so the message will stay with them longer.
Plus, they'll appreciate you not taking up too much of their valuable time. A drop of champagne is optional, but probably very appreciated.
Personalised Christmas Cards
In the age of email greeting cards and messages, people love receiving a real card they can touch, read and hang up to show off in the office or home.
Depending on numbers, you could have them printed with a message or handwrite inside the card.
You can also include subtle branding and a fun, customised image and message on the front.
Santa workshop or face painting
Say thanks to clients, suppliers and staff - and build closer relationship with them - by turning your office., store or warehouse into a magical Santa workshop and/or face painting studio for kids of all ages.
You could even go to town with elves (staff), fake snow and a north pole.
Create Christmas packages for loyal clients
Show your appreciation for loyalty by showcasing a range of products and services to your best clients with a themed Christmas bundle.
For example, a summer pack, family pack, party pack, hobby pack, exercise pack, relaxation pack, education pack, hangover pack, etc containing items that relate to the topic, even in a fun way.
You could sell them at a lower cost and promote them as a gift idea or give them away and let people choose their pack.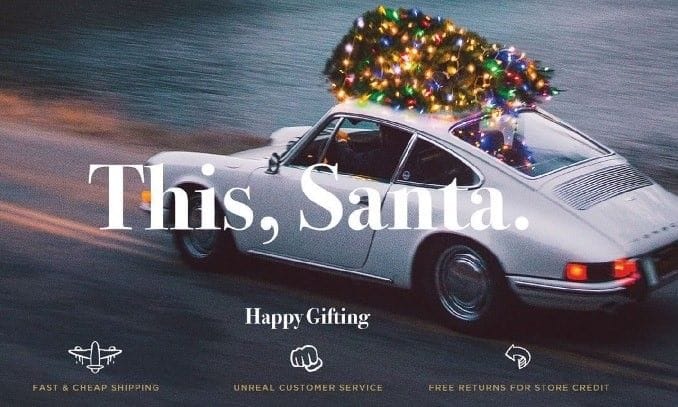 Use posters to promote your messages
Whether you're announcing a Christmas sale, event or new arrival to your area, posters excite and attract a local target audience like kids to the largest present under the tree.
A well-designed Christmas campaign poster can quickly capture attention on the walls and windows of your own business.
With permission, you can also display them in public and at other local businesses your audience visits.
Lure customers in with flyers containing offers
Christmas flyers suit all kinds of businesses, from retail to professional services, trades and more.
You can sit them on counter tops, slip them into event bags, send them out by post or hand them to a hot prospect. For best results:
choose an eye-catching design, paper, font and colours
focus on customer benefits
include a discount, value add or other attractive deal with a time limit.
Sell gift vouchers (and give them away)
Gift vouchers make great presents either from you to a customer, or from your customer to other people.
They eliminate the stress of trying to come up with a gift someone will like, and replace it with a guarantee that the product they buy is something they really want.
Best of all, vouchers people pay for usually get cashed in during traditionally quiet January and February.
Help a good cause
The season of giving doesn't need to be limited to giving to family, friends, customers, suppliers and colleagues.
Do something bigger and be a business that does good in the world around you.
People are often looking for ways to help others at this time of year, but can't find a convenient avenue.
That's why customers will love joining in be part of your Christmas spirit of giving.
Some ideas for giving include:
host a food, toy or clothing drive
donate a percentage of all sales during a specific period
say you'll match sales with a donation
donate a great product or service
donate unsold stock
volunteer - you and your team
outsource from a person in need
hold a fundraising event
By supporting local initiatives, while encouraging your customers to also become involved, is good for your soul and brand reputation.
Build a Christmas landing page
A lot of traffic descends upon retail and e-commerce websites over November and December in search of deals and ideas.
Don't risk losing those busy, precious prospects by making them search all over your site to find what they want.
A Christmas gift ideas landing page is a cost-effective way to quickly boost conversion rates and delight customers, both new and regular.
Include things such as:
Gifts by demographics or interests
Best-seller ideas
Flash sale product one a day for one hour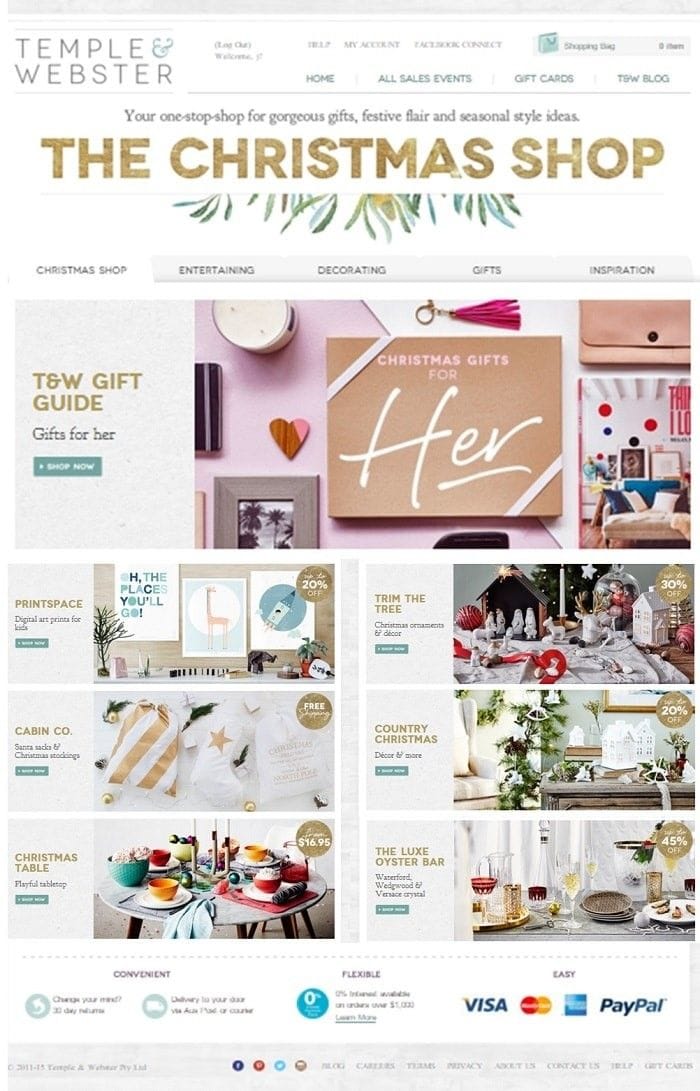 Share Christmas holiday related updates
If you have a blog or social pages, look for ways to be a helpful friend to your customers and followers. Provide tips and expert advice around topics related to your business and the problems your audience needs solving.
For example:
High end fashion store luxury summer holiday destinations or best cocktail bars
Gyms - how to stay fit and healthy while on holiday
Accountant how to avoid a credit card blowout over Christmas
Hardware store home handyperson tips to get those little jobs done
As a rule, blog posts and social media posts should be 80% helpful and 20% promotional or product based.
At Christmas time, customers are generally ok with more of a promotional nudge. But don't push it, if you get what we mean.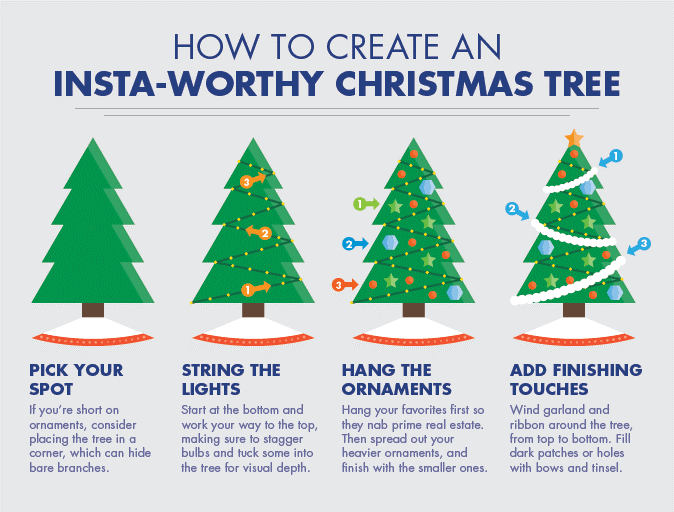 Bed, Bath & Beyond produce a lot of helpful Christmas content. Some of their content also promotes products subtly, like this Christmas tree infographic.
Merry email campaigns
Email is one of the most powerful marketing tools available to any business at Christmas time.
And there are dozens of ways to put this fast, cost-effective and high-conversion channel to work for you.
While 12 days of Christmas campaigns are nothing new, they do create a sense of urgency, or FOMO - something that the human brain is almost powerless to resist.
To stand out from the pack, try a few of the following:
Run a 24 days of deals campaign.
Showcase unique items that aren't in other shops or online stores
Promote department-specific offers each week or fortnight
Launch a "This Year's Best Sellers" campaign
Include recommendations or social post grabs from clients about products
Remember to spend time working on and testing your subject lines. Almost 40% of people open an email based solely on how interesting they find the subject line.
That's a lot of customers to win, or lose.
For most businesses, the holiday season is the busiest and most important time of year.
Embrace the cheery chaos and put some of these Christmas ideas into action to lift your leads, sales and feel-goods about your business and the world.