10 simple eCommerce design tips proven to boost sales
Published: 8 May 2017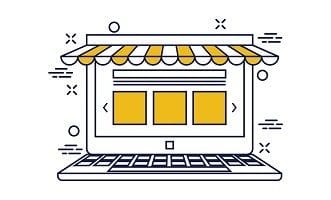 Doing business in the eCommerce arena has become even more competitive than out on the street, or in the mall. With your customers in the driving seat from the anonymous comfort of their office, home, bus seat or beach towel, anything less than a near-perfect experience can lose their business.
On the other hand, if you can make every moment, scroll and click on your site smooth and easy, you could find yourself with a rapidly growing share of obsessive fans.
Here are 10 ways you can turn casual browsers into delighted customers by doing nothing more than making your website a shopper's slice of e-heaven:
1. Make your site mobile responsive
Give your audience the ability to see and use your site properly on any device, of any size. Why is this tip one? Because people will leave if they can't read and see things properly, find it hard to click buttons or need to scroll across to view the whole page. But before they even arrive, Google will lower you in the rankings if your site isn't responsiveand boost your ranking if it is.
2. Don't overcrowd your homepage
It's tempting to include a whole lot of information up front about what you offer, but don't do it. The customer won't know where to focus and could quickly become confused or frustrated.
The homepage simply needs to help people understand:
What is this business or site about?
Can they help me?
Where do I click to get to possible solutions?
Limit the information to an overall value proposition, some benefits of using you, contact details, links to most important categories and specials, plus some testimonials/star ratings if you have them.
3. Have a visible, useful search box
Most people don't have the time to wander through your categories to find out if you have what they need. Sometimes they may not even know what they need. They just want a problem solved be it a leaking tap, a kid-friendly computer game or the latest fashion accessory.
A prominent search box that allows people to type in a range of words or phrases around a topic is like having a knowledgeable floor staff member asking 'Hi, can I help you?" right at the moment the customer looks up from the aisle for assistance.
4. Include breadcrumb navigation
Customers love to keep track of where they've come from and where they're going. On a eCommerce site you should use breadcrumb navigation, not just from the homepage through your categories, but as people are:
placing the order
confirming the address
making the payment.
And make it possible for them to go back to the previous stage and modify or edit the details. If they have to start from the scratch, they're more likely to ditch their trolley and go elsewhere.
5. Promote your digital security
Online, people want to be assured that their money and personal details are secure. A Hacker Safe or VeriSign certificate on every page can instil confidence.
You should also possess an updated SSL certificate for better shopping security and customer trust. Google favours SSL secure sites and that helps your search ranking.
You can determine if a site is secure or not by observing the 'lock' icon on the address bar. Plus, a URL that starts with https (not just http) is more secure.
6. Use captivating images
Great images often bring products to life in a way that words can't, and create an experience closer to in-store purchasing. If possible include:
high quality shots
close up details of the product (or the ability to zoom)
the product being used
different angles of the product
images in category pages to catch eyes while people browse top pages
Just make sure your image files are reasonably small so they don't hamper page load time.
7. Highlight your Calls to Action
Calls to action (CTAs) are a button, image or line of text that prompts your visitors, leads and customers to take the next step click to another page, buy, add to cart, join up, etc. They are arguably the most important messages on your eCommerce site.
Online audiences like clear guidance, so don't be shy. Make your CTA stand out by choosing a button size, font, colour and positioning that gets noticed. If your page is long, have CTAs at logical points where people might be ready to commit.
It's also important to know what holds your audience back from taking that last step. If you offer free delivery or money back guarantees, be sure to say it boldly near your call to action. It make the commitment to click feel less risky.
8. Allow easy checkouts without the need to register
When you buy in a store, you don't want to be told at the counter, "Yes, you can have that, but first you have to sign up to our club and give us lots of personal information". So why do so many eCommerce sites insist on this?
Allow people to shop and buy as guest users. You can always tell them that signing up will make their next purchase easier. But give them the option. And if you do have a sign up area, avoid long and exhausting forms at all costs.
An email address and password will often suffice. And include a join the club button to make things easier and less intimidating than 'sign up'.
9. Display all the charges
Don't hide any charges along the way. People hate it when at the end of the shopping they discover they've been charged more than they expected.
Always display prices, taxes, shipping charges and discounts clearly so that there's no scope for misinformation. Or, at least, make it easy for people to click on the shopping cart to see what they are currently up for.
Look at the way some of the most successful eCommerce sites work, such as Amazon, or airline sites as you buy your ticket. You always know where you stand financially.
10. Add reviews to your product pages
People are far more comfortable about buying a product, and from a business, if they know someone else has had a great experience beforehand:
63% of customers are more likely to make a purchase from a site that has user reviews
Site visitors who interact with reviews are 105% more likely to purchase and spend 11% more
Consumer reviews are 12 times more trusted than product descriptions
You can also use star ratings to give people an idea of performance and experience at a glance.
If you run an eCommerce store, do some research to find out what the competition are up to. Play customer at some of the best in the business such renttherunway.com, saddlebackleather.com, bellroy.com, bestbuy.com and thenorthface.com.au. And then get a few objective people to test your site out.
From there, take your research and combine it with these 10 tips to create an online shopping experience that boosts traffic, conversions and per sale value. Contact your local Centre today for help designing your eCommerce website.