The secret to attracting big-spending clients
Published: 22 December 2017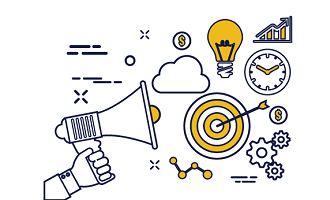 Do you wonder how some SMEs have lots of big budget clients who are willing to pay for quality - while most of your customers never have any money to spend?
If so, the problem might be the image you project, how you see yourself and your business, or both.
Here are some techniques many successful business owners and their teams use to lure bigger fish. You can start making them your own today.
Create a unique identity that separates you from the pack
When you offer a unique value proposition, you are differentiating yourself from your competitors. It could be the fact you use only organic components in your makeup, or your accounting software is for non-accountants, or the 24/7 in person service you provide.
It should be something that truly separates you from the others. If you want to grab the attention of businesses that are constantly being courted by others in your industry, find your USP and flaunt it.
Project yourself as a thought leader
You don't have to be big to lead. A smart idea or unexpected point of view could bring in a lot of fresh ideas and customers.

Choose a subject in your industry and work on it to get a unique and well-researched point of view across. You could be published in a trade journal, popular blog or magazine read by your audience.

Or publish your own pieces on your own blog and share them via social media. You can also publish articles to an influential business audience on LinkedIn.

Identify an area that could be the next big thing in your industry, or a hot topic people are clamouring for knowledge on.
Have a high-end client's mindset
To attract big spenders, you need to start pondering big and stop the self-limiting thoughts and behaviours. Get rid of negative thoughts and focus on the real needs of the people and businesses you want to work with.

Some big companies may expect a big partner. However, most businesses are looking for someone who truly values them as a client and can deliver on their promises.

Remember, a supplier's ability to do something special reflects positively on the client inside and outside of their own roles and brand. And it impacts them negatively when the opposite occurs.
Charge your true value
When your business is smaller, and you are used to clients with low budgets or who haggle over every dollar, quoting and pricing are things that you almost want to avoid discussing.

If you know that you have a lot to offer a unique experience, skills, etc that someone can't get elsewhere without great difficulty or paying a high price you should reflect that value in your price.
A realistic competitor comparison and close look at your prices could help you understand and address this gap.

Sometimes people have a tendency to equate low price to low quality. With a change in your mindset and thinking, you can overcome this handicap.

Most clients that want and appreciate high value and charge it themselves respect other businesses that do the same. If they don't, you probably don't want to be doing business with them anyway.
Show that you network with high-end clients
The top executives across various functional levels in a large organisation love to know what their peers think. SMEs can make use of this to win large accounts by conducting research of CEOs and high-level managers, and then sharing the results exclusively with the interviewees and related target audience.

You can approach the idea by offering to show the interviewees more detailed data and ways your research insights can benefit them.

There's a psychological advantage working here too. In the eyes of the leaders, you look like a person and business that has relationships with other major players. And you become more appealing a business they should be engaging with too.
Provide premium services for special clients
One of the best ways to hook and hold big spending accounts is to offer them premium services. Devise and promote special bonuses and privilege packages to attract them.

These offers/services should reflect the fine taste and quality of your business. Make sure the add-on offers have high-perceived values that go hand in hand with your main offer/service.

For example, cosmetics line Sephora offer a VIP Rouge program that includes monthly gifts, free delivery, private hotline, exclusive events and more.

In the B2B space, Salesforce's Dreamforce conference is a huge event for sales and marketing professionals from around the world.
It's a place where those who attend do deals, learn and socialise. They also feel more loyal to and valued by the Salesforce brand. The invitation-only Executive Summit held during the week builds on that VIP status.

How can you make your target audience feel valued with something truly beneficial that they are proud to tell others about?
Keep casting your line
When you work with big business, it can take time to hear yes. And sometimes, large fish pull themselves off the line and swim away. Try to be patient and don't let every rejection bring you down. It's all a learning process.

As best-selling author and motivation speaker, Steve Maraboli, said, "Every time I thought I was being rejected from something good, I was actually being re-directed to something better".
Of course, if you hear the same objections over and over, fix the problem and keep going.
If you have a good business model and offer unique products or services that big budget prospects want and need, the only thing keeping you from making them your client is making sure they know what they're missing.