The paper guide: How to make your next print pop
Published: 26 November 2018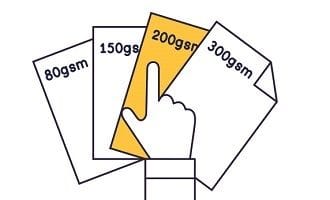 Whether you're printing business cards, brochures or a presentation, the weight and finish of your paper can have a huge impact on how people feel about the final piece and your brand. We've created the ultimate GSM paper guide to help you confidently choose the best stock for your next print project.
What does GSM stand for?
Paper weight is measured in grams per square metre (GSM). The GSM value refers to the weight of a 1m x 1m sheet for example 60gsm, 80gsm, 200gsm. Typically, the higher the GSM value, the thicker and stiffer the paper.
How does GSM influence how people perceive your print product?
Paper inhabits subtle yet powerful tactile characteristics. The way it looks, smells and feels in your hands can form strong impressions in the reader's mind. Thicker, smoother paper stocks suggest a more professional, premium even luxurious product and brand. Thin, uncoated stocks, on the other hand, are often associated with cheaper products or brands.
Which paper weight works best for different print jobs?
It's important to remember that not every stock works equally well for every print product. Heavy stocks, for example, might be unsuitable for things like letterbox flyers and stationery.
Here are some suggestions as to which stock works best for which print job:
80 100gsm: Perfect for letterheads and other general stationary or training manuals.
115 -130gsm: Lightweight, cost-effective and good for short-term use flyers.
150gsm: Good quality flyers, brochures, pamphlets and booklets for longer use.
170gsm: Upmarket corporate brochures, calendars and quality posters that are not too heavy to stay on the wall.
200-250gsm: Not quite card thickness, this stock is great for premium flyers and brochures.
300 - 350gsm: Strong and rigid; good for standard business cards, menus, postcards and greeting cards, and premium brochure covers.
400gsm: Premium business cards, product tags, long use poster boards and even product packaging.
Which paper finish is best?
Paper stock comes in coated and uncoated finishes. Just like GSM, the choice of paper finish impacts the overall look and feel of your printed piece.
Uncoated paper
No coating means no glare off the surface. Uncoated paper is also highly ink-absorbent, which means there's a lesser chance of smudge. This makes it ideal for text-heavy projects, such as forms, manuals, letterheads, tickets, presentations, plans and memo paper.
Matte paper
Matte or silk-coated paper has a high quality feel that's subtler than gloss and prevents glare in a similar fashion to uncoated paper. This paper finish is often used for reports, flyers, brochures, postcards, posters, business cards, magazines and books containing images.
Gloss-coated paper
This finish is a perfect match for bold colours and high-contrast prints. Its shiny surface makes it a favourite for high-end magazines and marketing materials, such as brochures and booklets. However, if readability is a concern, you might want to consider a dull-coated gloss over a high gloss paper to deliver a better reading experience.
Scodix
While not a coating, Scodix is a stunning enhancement to any of the above paper choices. It adds a luxury feel using embellishments in a variety of raised (smooth, textured, gold or silver), foil blocking and spot UV gloss finishes.
The paper and finish you use to for your next print job will influence how people receive your message. So, before you choose, always consider your audience, goal and brand identity.
Author:
Snap Franchising Ltd