The future of label printing is now
Published: 10 April 2019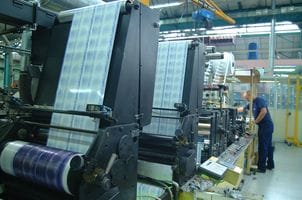 Greater product varieties and the mounting popularity of small boutique brands has forced the print industry to embrace flexibility in product labels. Overseas, companies like Epson, Konica Minolta and Screen have already launched solutions that are set to revolutionise this the label printing industry. Here's what that means for Australia.
Short over long
The conventional methods used today in label printing typically come with high set-up costs and certain production limitations particularly when it comes to short-run orders. Digital label printing, on the other hand, allows you to produce smaller jobs cost-effectively and facilitate last-minute changes to order details and label contents. Of course, digital presses can also print long-run orders and tend to include brand protection features and variable data printing (VDP).
Current implementations
According to Craig Heckenberg, General Manager at Epson Australia, the areas that have seen the biggest increase in demand for digitally printed labels are food, beverage (alcoholic and non-alcoholic), household products, and industrial and pharmaceutical industries.
One of the main reasons for this, says Heckenberg, is that these industries in particular are looking for faster turnaround times to take advantage of first-to-market opportunities. They also tend to prefer short-run orders to avoid holding too much label stock. "They don't want to be caught with redundant labels, for example, to accommodate raw-ingredient or legislation changes."
Overseas, the new method has already taken off. Recently, FINAT (the European association for the self-adhesive label industry) reported that purchases of digital label presses have, for the first time, overtaken installations of conventional machinery. Among other things, this development can be attributed to the lower set-up costs of digital label presses, which makes digital label printing a low-risk, high-yield investment not only for label printers but also for commercial printers looking to expand their professional bandwidth.
Digital label printing down South
Mark Brown, Product Marketing Manager at Konica Minolta, believes it won't take long for the trend to reach our shores. "Australia is well known for early technology adaption and the printing of labels via digital methods is no different. Konica Minolta expects the level of digitisation of the label market will continue at an accelerated rate over the coming years, as presses become faster, better and cheaper."
In addition to Konica Minolta, print technology powerhouses Epson, HP and Screen have also launched digital label presses in the last few years. With the end customer in mind, these presses are meant to give product manufacturers more freedom when producing their product labels and may even mean they're able to move label production in-house entirely.
The digitisation of the label industry is another step taken to satisfy a more demanding, fast-paced global market in which those that succeed are those who can keep up with quick product turnarounds and maintain short response times.
Author:
Snap Franchising Ltd