Starting over in Dandenong: Snap franchisees Sue and Ian
Published: 14 June 2019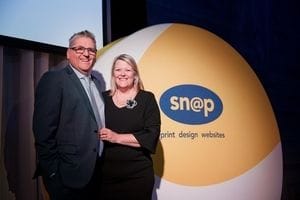 The appeal of franchise entrepreneurship includes flexibility, independence, personal growth and professional satisfaction. No wonder many more Australians with visions and drive dive into the franchise realm every year. According to Inside Franchise Business magazine, this is especially true for people from corporate backgrounds, like Sue and Ian Mackie from Snap in Dandenong South, Victoria.
From corporate employee to franchisee
Thanks to technological progress, the dream of owning a business is for many now closer than ever. Part of the reason is that business essentials like training, and support in marketing, operations, finance and litigation, can easily be accessed remotely, and whenever it's needed.
This means, taking the leap into self-employment nowadays is easier than ever, especially for corporate professionals with strong business skills and a little digital know-how. As a result, people are migrating to all sorts of industries that offer franchise opportunities, such as building, hairdressing, and, of course, printing.
Snap Dandenong South
Sue and Ian Mackie, from Snap Printing South Dandenong, successfully transitioned from corporate employees to franchise business owners seven years ago. They recently shared their story in Inside Franchise Business magazine's May/June issue.
One of the main reasons the couple took over the business was so they could work together again, as well as operate Monday to Friday. "We didn't want a seven-day week franchise business. [This] gave us the opportunity to support the lifestyle that we really wanted," reveals Ian.
They did quite a lot of research before deciding to go into the printing industry, and both felt Snap was a good fit given their backgrounds in advertising and marketing. "Previous corporate experience has been a huge help to us; just knowing the direction that we want to take the business in," Ian says.
With Snap being a product and service solutions provider in print and design, corporate-level skills like Sue's and Ian's were invaluable to their small business and their customers. It allowed them to approach the business with in-depth knowledge of industry challenges and meet client briefs with effective marketing solutions. The Snap franchise model simply helped the couple apply their previous experience working with large corporations to a business plan that's seen them through to success.
The couple's top tip to franchise entrepreneurship? "You really need to do your research and find something that you are comfortable with," so Ian. "If you choose to go with a seven day a week business, think about how that will impact your family life."
You can read more about Sue and Ian's Snap success story in the latest issue of Inside Franchise Magazine.
If you've ever thought about making the jump from employee to entrepreneur and love print? Consider joining the Snap family.
Author:
Snap Franchising Ltd