Social logins explained
Published: 3 July 2014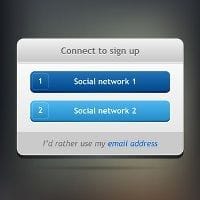 With the new financial year just around the corner, you may be considering a bit of a website upgrade.
If you're considering new developments, you might want to consider the increasingly popular option of enabling social logins within your site.
What are social logins?
If you have an online store, or subscriber-only content, it's likely your website will need a login functionality.
Social logins in web design eradicate the need for a form and traditional multi-click login process by integrating Facebook, Twitter, Google+ or LinkedIn logins on your website. There are a variety of different tools available, including Gigya and LoginRadius, to make the setup process easy.
What are the benefits?
Fast and convenient: We all know the pain of setting up yet another account with yet another website and having to remember yet another password. Social logins eradicate this need, and make signing up a one-step process.
Data collection: Many social networks allow you to pull in contact details from signups, including eMail addresses, so you can communicate with your client database with ease.
Spam reduction: The major social networks, such as Facebook, have an auditing system whereby individuals are authenticated and multiple accounts are disallowed, meaning your database will have significantly less false accounts tied to it.
Personalisation: Having a social login function will allow you to mine social data to create a more personal experience for your users. This could be product suggestions, or a look at what their friends have viewed.
Increased engagement: Social logins make your website more engagement friendly as they decrease the amount of clicks and logins required when a user wants to share. The icing on the cake here is that an increase in engagement on social can also lead to improved search rankings.
Contact your local Snap Centre for help with your website design.