Snap Underwood: Helping the Indigenous community thrive
Published: 11 November 2019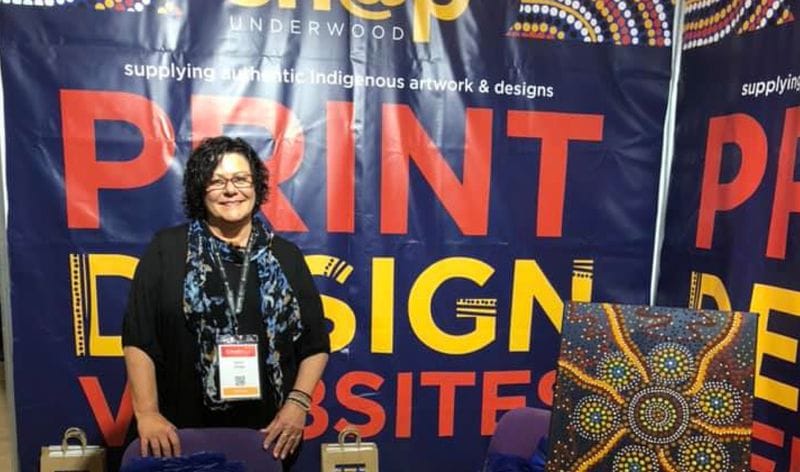 Karen Seage wanted to run her own Snap franchise under one condition: that it would help her local Indigenous community. Eight years in, she can proudly say that 98% of her current client base is Indigenous or Indigenous-related. This is how she got there.
From humble beginnings to big business
Karen, a proud Noonuccal woman from Quandamooka country (Stradbroke Island), began her career in graphic design before joining Snap in 2005.
"I worked in the Brisbane production house for four years, then went across to Rocklea to work in sales and management before coming to Underwood in 2011," she says. "For the first two years here, I was a partner with non-Indigenous franchise owners. That gave me the chance to see if I could make it work the way I wanted to, and in 2013 I bought the business."
Times were lean at first, but shortly afterwards the federal government introduced the Indigenous Procurement Policy.
"This meant that Indigenous businesses had to get 3% of all government work," Karen explains. "Thanks to the Supply Nation database [which lists compliant Indigenous organisations], we now supply all over Australia to companies who want to work with an Indigenous business."
The 2018 Commonwealth Games also gave the business an important boost.
"The Queensland government gave us all their work for the Commonwealth Games for about two and a half years," Karen says. "Before they committed to it, they gave us an initial job one afternoon at 4pm, and we stayed up all night to get it done. I delivered it at 8.45 the next morning. That was our test to see if we could produce high-quality work in a short period which we did. From then on they kept using us."
Karen describes that couple of years as "a game changer" for the business.
"It doubled our sales, which enabled us to buy all our own equipment to run all our jobs in-house and hire more staff."
Providing jobs to the Indigenous community
Through the business growth, Karen has remained determined to meet that initial goal to serve her local Indigenous community. The first way she does this is by providing jobs to Indigenous people.
"Most of my staff are Indigenous, or their children are Indigenous," Karen says. "I also employ Indigenous artists, who do original paintings and designs that fit client briefs. That means that artists are dealing with big companies like Boeing, the Children's Hospital Foundation and various government departments, which gets their name out there."
One great success story is Indigenous artist Shara Delaney.
"Shara worked here with us for three months, which got her recognised," Karen says. "She's just picked up a big job with the CSIRO, doing a painting on the side of a ship that's going up to Darwin. Her work here flowed on to help her continually get work."
Other Indigenous artists and designers work with Snap Underwood to complete Reconciliation Maps (plans for how companies will work with First Nations people) for organisations such as CSIRO, Lendlease and Qantas.
"That often involves an Indigenous artist telling the company's story in a painting a bit like a company capability statement," Karen explains
The staff at Snap Underwood work hard to provide services to clients big and small, and they support each other, too.
"We employ single mums, and set the children up here at the shop after school and in school holidays, so they don't have to pay for care. All the kids play together, and they help with things like binding as they get older."
Helping Indigenous people run their own businesses
Karen is proud that she can offer Snap's services to her local Indigenous community.
"That's the most important thing to me. I need the business to keep being successful so that my community can come here, get a job done and feel safe to talk about a business they want to get going. I love that I'm producing what they need so that they can go back and provide for their mob."
To do this, Karen's shop is laid out differently to the average Snap Centre.
"My clients don't stand at the front of the shop," she says. "They walk straight down to the middle of our production area, where there's an eight-seat table. They'll sit down at the table, have a cup of tea and everyone starts yarning."
"Most of my clients are Indigenous people and we're very warm with each other, almost like family. They're not just clients."
To Karen, the bigger picture is smashing the stereotypes she's noticed about Indigenous people.
"We can run businesses, we can produce the products that big businesses need, and we're really good at it."
And Karen says that nothing beats the satisfaction of using her business to work with the community.
"It's helping people, it's work with soul."
Keen to learn more about print? Read more stories like this in our Snap News Centre.
Author:
Snap Franchising Ltd