Snap Circular Quay wins big at 2018 PIXI Awards
Published: 20 March 2019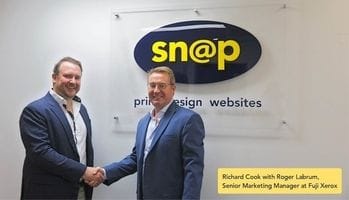 Fuji Xerox Asia Pacific has announced the winning entries of the coveted PIXI (Printing Innovation with Xerox Imaging) Awards. For the 11th year in a row, they chose 34 winners that emerged out of 181 applications from 12 countries including Australia, New Zealand, Japan, China and Malaysia.
Local favourite Snap Circular Quay managed to snatch the top spot in not one, but two of the 33 categories: Catalogues and Use of Specialty Colours: Metallics & White. While it may have been the first award win for the Sydney printer, business owner Richard Cook never doubted his team had the potential to do it.
Expect the unexpected
"The pieces we submitted were very vibrant, colourful and high-quality items of work. That's why we chose them because we thought they could win," says Richard Cook. Although he and his team were optimistic, they didn't expect their first ever awards entry to lead to a double win. "For us, as a Sydney-based printer to have won an international award is really an honour. It's great to be recognised as one of the leaders in these fields in Australia."
For Richard, it wasn't until he and his team came across the application form for the PIXI awards that he seriously considered entering a competition. "We thought it would be a good opportunity for our customers to get to know the quality of our work. So, we applied for two categories and came first in both of them, which was really nice!"
Print specialties
As a printer with a focus on corporate printing needs, it only made sense to Richard to enter the Catalogues category. "We've got nearly 900 customers and produce just short of 10,000 orders a year. Since we print brochures and catalogues for a number of them, it felt like a strong basis for us to do it."
The second category Snap Circular Quay excelled in is also one of the newest PIXI awards category additions. Use of Speciality Colours: Metallics & White, among others, was introduced recently to showcase the many applications of the new Fuji Xerox Iridesse Production Press.
The press allows printers to apply speciality colours like metallics such as gold and silver to prints that can't be mixed from the usual CMYK colour combinations. Thus, printers can increase the colour vibrancy of a product and add a more luxurious and high-end feel to their work without relying on glossy paper stock.
"This is by far the hardest event we have had to judge in the history of the PIXI awards," says Paul Callaghan, head of the 2018 PIXI Awards judging panel. "[The entries] have far exceeded what we expected in terms of superb quality."
All PIXI Award winners will be exhibited in Tokyo at the Fuji Xerox Graphic Communication Service Centre and other regional industry events. There's a chance Snap Circular Quay could gain further international recognition as Fuji Xerox will submit all winning entries for consideration in the Asia Print Awards. We'll keep our fingers crossed and are excited to see what's next for Richard Cook and his team at Snap Circular Quay.
Find your local Snap Centre now.
Author:
Snap Franchising Ltd