Printing with light: The UV revolution
Published: 4 March 2019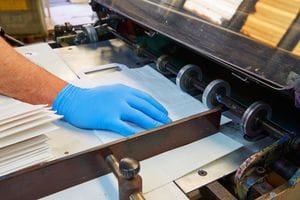 Intending to change the paper and printing industry, two researchers from Shandong University in China and the University of California developed an inkless printing method that could drastically reduce the environmental impacts of printing on paper. Read on to learn more about the true potential of this groundbreaking technique.
How does UV printing work?
The secret to printing with UV light lies in the paper. Researchers Wenzhou Wang and Lawrence Berkeley developed a colour changing paper coating that can be reprinted up to 80 times. It's made up of two different nanoparticles, a colour pigment and the photocatalyst titanium dioxide (TiO2), which enable the paper to change colour when exposed to UV light. If proven commercially viable, this new technology could eliminate the need for traditional ink all together.
According to Professor Yandong Yin from the University of California, the paper has the exact same feel and appearance as conventional paper, except that it can be erased when you expose it to temperatures of around 120C and reused. The scientists believe their discovery has the potential to find many applications in everyday life basically wherever there's a need to record temporary information or for reading materials. For example, it could be used in publishing as the base for newspapers and magazines, for stationery products like notepads, rewriteable notebooks or even product labels.
The possibility of printing on paper with UV light is not an entirely new avenue. It has been explored in the past, however, previous attempts were overcome by challenges that stopped the development in its tracks. These included high production costs, insufficient stability, limited reversibility and concerning toxicity levels of the chemicals in use. Moreover, the solution was too difficult to apply to regular porous paper.
The new, improved formula has managed to eliminate these issues. For instance, it uses a Prussian blue pigment that has proven entirely non-toxic. It also gives the unprinted blue paper its characteristic blue tinge post coating. For this reason, it's actually the paper's background that's treated with UV light causing it to fade. After this, the only thing that remains is the 'printed' elements.
Is UV printing commercially viable?
The inventors of UV light printing believe it has great commercial potential and might even be more cost-effective than traditional printing processes as no ink is required. "[It's] indeed cost-competitive with conventional paper. The coating materials are inexpensive, and the production cost is also expected to be low as the coating can be applied to the surface of conventional paper by simple processes such as soaking or spraying," Professor Yin told Phys.org.
Current limitations
Although printing with UV light on a large scale seems possible in theory, there are a few roadblocks the research has yet to overcome. For example, at the moment, it's limited to only printing text with blue ink. Furthermore, any printed texts or graphics will only stay visible for approximately five weeks before they begin to fade.
However, a possible solution for this is already in the works: "Our immediate next step is to construct a laser printer to work with this rewriteable paper to enable fast printing. We will also look into effective methods for realising full-colour printing," said Yin.
If UV light printing is able to overcome its current limitations it does indeed have the potential to change the way we produce, use and print on paper and likely for the better.
Author:
Snap Franchising Ltd