Early 'End Of Financial Year' Tips
Published: 13 April 2021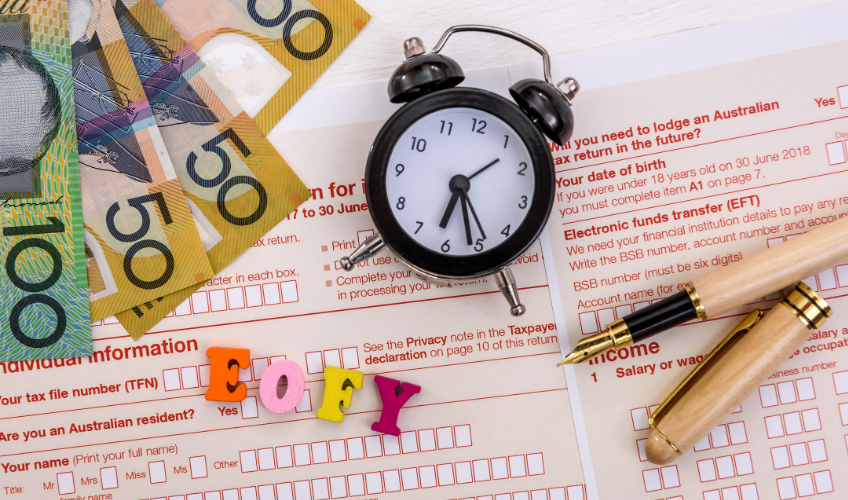 It's almost here! The end of financial year is such a busy time for business. Instead of rushing around just before 30 June, we thought we'd give you a head start with tips to prepare and set your business up for the EOFY now.
Prepare your EOFY promotions
Get your sales targets over the line (and reduce how many items you need to count during your stock-take) with an end of financial year sale and/or event. It's kind of expected by your customers, and your competitors will surely be readying themselves with some kind of offer, so it pays to prepare to make sure you're in the mix.
Take some time out now to think about your objectives and, inturn, what type of approach might appeal to your prospects and customers. Your offer (or event) doesn't need to be for everyone, perhaps only target your existing customers and let them know they have 'an exclusive' (way to feel special!) Traditionally EOFY sales begin on 1 June and end on 30 June although some businesses jump the gun in May. So preparations need get underway including some thinking time about the design of your artwork and your print collateral.
It can be challenging to cut through all the sales signals out there so it's important to get creative and we are here to help. For example, SNAP has helped customers create impactful window displays or flash new postcards showcasing an offer. So put your thinking cap on as EOFY sales provide an opportunity to boost your returns for the year and put your business on the map (plus you'll also be getting tax deductable promotional assets at the same time).
Tax effective business expenses*
While it's only a good deal if you genuinely need the item, EOFY is a great time to take advantage of the sales yourself for the benefit of your company. In short, spend on items that will generate a return for your business and make sure you're invoiced before 30 June. Your accountant will need to advise you on the exact expenses you can claim but advertising and marketing initiatives are common eligible expenses. It's wise to think about these purchases now to make sure you don't rush into any purchases and also ensure you can be invoiced this financial year. SNAP often develops websites or print collateral from signage and stickers to brochures and business cards during April and May for this reason. If you develop a website for your business, for example, fees associated with creating, updating, hosting and domain name changes are all tax deductable.
Another common reason for purchasing signage, business stationery,promotional items and the like at this time of year is because of remaining budget that needs to be spent. Invest in items that can be used throughout the year. For example, delight your customers with a gift to say thanks when they place an order. Check out our range of promotional items (which can be branded with your company logo) to inspire you and differentiate you from the competition.
Reporting needs plus a time for review
The annual report is an integral part of corporate reporting however it is becoming more and more an extension of a business' brand and identity. So, when starting to think about your annual report for this financial year, it's good to know the impact that design and printing decisions can have on the final result. A beautifully designed report may help establish your business as more trustworthy and reliable. We have advised on the design and printing of many reports and our Centres are a useful resource at the beginning stages.
We can share our knowledge regarding what makes a compelling annual report design. For example, we know that for easy scanning, the use of headings and subheadings is important. We understand that compelling visual elements, such as photographs and infographics, can quickly distil information. Equally text should be kept short and simple to prevent reader fatigue and complementary colour schemes and layout should be consistent with your brand. Another useful tip is to highlight quotes and important snippets of information by using coloured text boxes.
Plus, when thinking about your annual report, it's also a great time to review your business and create a winning strategy for the next financial year. It's easy at this point to crunch the numbers to give you a baseline for measuring any new initiatives.
We wish you luck with the coming silly financial season and any promotions, spending, reports or planning you implement.
*This information is intended to provide general information only and does not consider your individual financial situation. You should seek independent, professional tax advice before making any decisions.
Author:
Snap Print & Design