Electronic business cards (vCards)
Published: 8 January 2013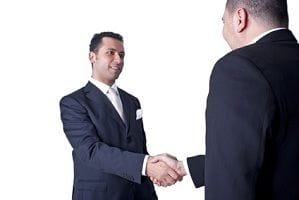 Quick delivery of business card details
Business cards have always been an easy and effective way of connecting and circulating your contact details to industry contacts and customers (both potential and existing). Now with the arrival of the vCard, business owners are able to add a digital element to how they circulate their business details.
What is a vCard?
The virtual business card, or vCard, is a barcode-like code that can be scanned using a smartphone or tablet device to instantly store contact details in an address book. The code is similar to a QR Code and most common address books, including Microsoft Outlook and Gmail, have very simple methods of importing vCard file formats.
What are the advantages?
The biggest advantage of the vCard for clients is that it is a highly convenient method of storing your details. They can simply scan the code, from a business card or an email signature for example, and avoid having to type out your information manually.
If you're networking, you may find some people simply scan your details straight into their phone and don't feel the need to take a paper card, meaning you save both money and the environment.
Finally, if you get stuck at a networking event with only one business card, you can simply keep it and ask potential clients to scan your details through (instead of asking them to writing them down!).
What information should I include?
The vCard code can include more information than you can conventionally fit on a business card, meaning you can give clients more options for contacting you.
Along with the obvious information that would appear on any business card name, phone number, email address, office address and mobile number you could include your company website, social media pages, audio clips, company logos, photos, blog URL and more.
vCards are quickly becoming more popular amongst professionals who want to give their clients the easiest possible way of storing their details.
Contact your local Snap Centre
to find out more about our vCard and business card services.