Digital printing: the latest advances
Published: 27 May 2019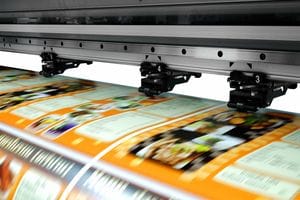 Digital printing has made immense technological leaps over the past two decades and continues to do so at what feels like lightning speed. So, does this mean it's time for offset printing to pass the torch? Let's look at the latest digital printing developments to find out.
The digital future is now
One of the main benefits of digital printing is the flexibility it offers. This applies to turnaround speed and overall responsiveness, which essentially allows customers to make changes up until the moment before the printer hits the 'start' button. Because of this, digital printing has become an extremely popular tool in industries like sales and marketing.
However, this kind of flexibility has in the past come at the cost of sacrificing final print quality but that's not a given any longer. Major printing press manufacturers like Canon, HP, and Fuji Xerox have recently launched new digital presses that are rumoured to rival the pristine quality of offset printing.
In Canon's corner, for example, we have the new imagePress C850 series, offering improved workflow automation for higher productivity and an impressive printing speed of up to 85 prints per minute. HP, on the other hand, recently launched the Indigo 12000 HD with sharper, smoother, and finer printing capabilities. If HP's bold website claims are anything to go by, the Indigo is set to not only rival but surpass offset printing quality. What's more, it can cater to nearly any commercial application, which is also a domain previously dominated by offset presses.
When it comes to speed, though, Fuji Xerox's Iridesse has one up on the HP Indigo. This digital press can produce offset quality prints at speeds of 120 prints per minute. Furthermore, it's the first digital printing press that allows the use of pristine speciality inks like gold, silver, clear, and white, in one single pass. In offset printing, the print operator is still required to manually mix shades like these prior to printing.
Offset still has one leg-up
While all of this might not sound very promising for the future of offset printing, there are still a few areas where it remains ahead: in speed, cost per unit (CPU) for medium to large printing jobs, and breadth of printable substrates particularly ones not made from paper.
Although the initial setup process is more complex, once an offset printing press is up and running it can print up to 300 large sheets per minute, equating up to 4800 printed pages once trimmed. That's also why the CPU of an offset printing job decreases with larger quantities. For digital printing jobs, on the other hand, the CPU remains the same at all times.
Alon Bar-Shany, general manager of HP Indigo at HP Inc., believes that the strong advancements in digital printing derives from people's desire to connect the online world with the physical world. If these developments are anything to go by, customers will soon be able to get the best of both worlds in one place. But until then, offset printing is unlikely to go away.
Ready to submit your next print job? Let your local Snap expert guide you through the process.
Author:
Snap Franchising Ltd