Choosing between single or double-sided business cards
Published: 29 October 2014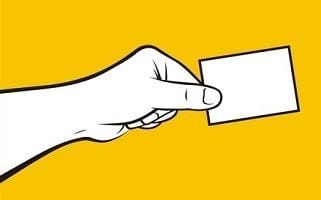 Will a double-sided business card be twice as effective?
Weigh up the pros and cons of adding a second side before committing to a new business card. Put your best foot forward when meeting new potential clients or colleagues with a carefully considered, qualility and cheap business card.
The advantages of a single-sided card
Single-sided cards come into their own in busy, social situations where people might want to take notes. For example, fellow conference attendees might use the blank space on the back of your card to jot down what you were talking about and how you could connect in the future.
It's also worth thinking about the way your potential clients will store their business cards. If they're placed in a Rolodex or scanned into a computer, there's a chance the details on the back of your card will remain hidden or unseen.
Tempted to see if you can reduce printing costs and stay single-sided? Well, there are a few benefits you'll be missing out on.
The benefits of going double-sided
With a double-sided card, you have the chance to really maximise your brand. Use the additional space to ensure your card is beautifully designed, and include extras like taglines and promotional graphics. To make the most of a double-sided card, put all of your direct contact information on one side and use the other to showcase your business.
Double-sided cards also offer a prime opportunity to add some value to your card. Use the space on the back to add an incentive for your contact to hold on to your card, whether that's a coupon, a list of quirky facts or an inspirational quote.
Adding a second side to your business cards is relatively inexpensive and, when you consider the fact you're doubling your advertising real estate, could be well worth it.
For more advice about business cards, contact your local Snap Centre.