5 ways you can use print to build a loyal customer base
Published: 1 April 2019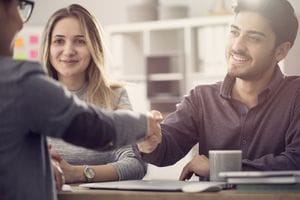 Building a loyal customer base is vital to the success of your business and print can be a powerful tool in the process. Learn how you can use it to turn first-time buyers into repeat customers.
The power of customer retention
Aside from the ongoing revenue you can expect from repeat purchases, returning customers are usually strong brand advocates who are more likely to share their positive brand experiences with their friends and colleagues. This, of course, can help attract new customers and grow your customer base.
There are also financial benefits to investing in customer retention. According to this report by pwc, it costs businesses 500% more to attract new customers than to retain existing ones. In fact, increasing your retention rate by just 5% can grow your profits by 25% or more. Here are five examples of how print can help you do that.
1. Loyalty cards
Loyalty cards may be an oldie, but they're sure still a goldie when it comes to customer retention. Something as simple as adding a stamp to your customer's loyalty card when they make a purchase, or offering a reward after they've made a number of visits, can help ensure your customers keep choosing you over a nearby competitor. Plus, it makes them feel like they're getting something out of the relationship, too.
2. Acknowledge special occasions with direct mail
Another great way to make your customers feel valued is by letting them know that you're thinking of them on special occasions like their birthday or perhaps even the anniversary of when they first became your customer. A thoughtfully designed direct mail with a special offer or discount code to commemorate the occasion can show your customers how much you value them and entice them to make their next purchase.
3. Send out personalised catalogues
If your business offers an assortment of products, you could also consider sending out personalised catalogues to reflect your customers' preferences. This way, you can show them more of what they like, increasing the likelihood that they will come back for more after their initial purchase. There are customer relationship management (CRM) systems that can help you track your customers' buying preferences over time and, thus, help you optimise your catalogue contents.
4. Slip them personal notes
It's the little things that often make the biggest difference. When your customers place an order, consider surprising them with a beautifully designed and signed thank you note bonus points for handwritten cards! Little displays of gratitude like this are sure to put a smile on your customer's face and keep your business front of mind when they need your services again.
5. Send printed surprises
Want to surprise your customers with a post-purchase discount voucher? Instead of adding to the flood of emails in their inbox, you could print the offer code on the inside of your delivery box. This way, when your customers open their order, they'll find a printed surprise hidden inside that makes them feel just that little bit more special.
Building and maintaining a healthy customer base is no easy feat but can increase the profitability of your business tremendously. In the meantime, your efforts will continue to make them smile what's not to like?
Author:
Snap Franchising Ltd