4 ways the print industry is becoming more eco-friendly
Published: 22 May 2019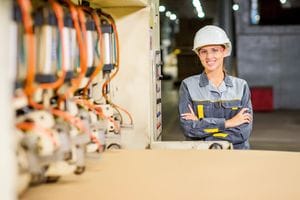 The growing global desire for increased sustainability has affected all kinds of industries, including print. Although some aspects, like the sustainability of paper, have been hot topics for years, its only now that other corners of the industry are joining the eco conversation. Here are four examples of what the print industry can do to reduce its ecological footprint.
1. Use recycled paper
The unique versatility and reusability of paper have made it one of the most commonly used products in the world. From packaging to product development, paper has become an indispensable tool in most global industries. And, of course, it's a major aspect of the printing industry, too.
That's why encouraging the use of recycled paper fibres instead of new ones is a big step that printers can take to keep the recycling cycle growing. As one of the few truly renewable products, recycled paper leaves a lower carbon footprint and promotes sustainable forest management.
2. Use eco-friendly inks
Many conventional inks for printing leach volatile organic compounds (VOC) into the atmosphere, which can have serious long-term implications for the environment. This is because ink manufacturing often uses chemical additives, such as particles of PVC or solvents to make the ink fit for different purposes. However, eco-friendly alternatives are becoming more popular.
Vegetable inks, for example, like soy-based inks, are not only deemed a lot gentler on the environment, but are also said to produce brighter and more vibrant colours. This makes vegetable ink a promising alternative for garment as well as document printing.
Another popular substitute to conventional inks is water-based ink. As a matter of fact, many artists and manufacturers in the garment printing industry have already taken a liking to it. The consistency of water-based ink allows it to be spread easily, which promotes great colour coverage. At the same time, it's not difficult to remove the ink from paper during the recycling process. What's more, customers seem to love the soft feel water-based inks leave behind when printed on fabrics.
The third eco-friendly option is ultraviolet (UV) inks. They come in liquid form but harden as soon as the print is exposed to UV light. UV inks contain zero harmful additives that evaporate and release VOCs, making them a safer substitute for everyone involved. However, there are concerns about the potentially high energy consumption involved in this process.
3. Reduce energy consumption
Reducing your energy consumption is a huge part of running a sustainable, eco-friendly operation in the print industry. Prioritising the use of renewable energies, like wind and solar power, for example, is a good starting point.
Additionally, business owners can make sure their business premises are properly insulated. This can help to avoid burning through excessive amounts of energy during the summer and winter months. Even little things, like using fixtures that reduce your water usage and installing energy-efficient lighting, can make a big difference in the grand ecological scheme of things.
4. Practice eco-friendly manufacturing
And there's even more that can be done: Fuji Xerox, for example, recently opened an Eco Manufacturing Centre in Sydney's West. Here, the manufacturer pledged to do its part to reduce the environmental impact of the industry by recycling and refurbishing old printing presses to manufacture future generations of printing presses.
In fact, 80-90% of old parts can be reused in new machines, according to Lloyd DeSousa, national service manager at the Eco Manufacturing Centre. This process is called 'remanufacturing'. In addition to the environmental benefits, remanufacturing is also good for business as reusing old parts can help manufacturers keep production costs low.
Today, we find ourselves at the very beginning of what is likely to be a long journey to sustainability, but these examples show that there's progress on the map, and we look forward to seeing more. If you're wondering where can I print documents sustainably? Get in touch with the team at SNAP today!
Author:
Snap Franchising Ltd