Why Qantas Business Rewards is the one loyalty program that's good for business
Published: 22 May 2017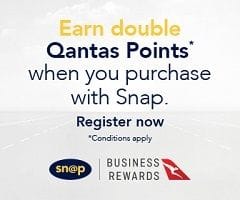 We don't feel we're going too far out on a limb here by guessing that you're a member of at least one loyalty, rewards or frequent flyer program. Why? Because 75% of Australians over 14 years of age are. And if you're not a member right now, you've probably been one, or thought about joining.
That's an amazing figure when you think about how often most programs are criticised for being too complicated, restrictive and offering little in the way of real savings or benefits.
The trouble with most frequent flyer programs
If you and your staff travel on business, you've probably had similar grumblings over frequent flyer programs, and wondered:
Can we ever earn enough points to redeem decent flights?
Why do travellers reap all the benefits?
Why can't points be allocated to other people in the business for travel?
Why aren't there more practical opportunities for businesses to earn points?
If these the kind of frustrations that have been on your mind, then you'll love the sound of the recently launched Qantas Business Rewards. We do which is why we had no hesitation when invited to be the program's printing, design and websites partner.
3 big ways Qantas says thanks for your business
You may know Qantas Aquire, the old business rewards program. Qantas Business Rewards has not just been a name change, but a complete overhauled to:
benefit more businesses of every size
offer more Qantas Points in the sky and on the ground
reward businesses and staff for doing everyday business.
Here are the main benefits:
1. You get rewarded twice for flying once
As a Qantas Business Rewards member, your business earns points on flights on top of the Qantas Points and Status Credits you and your travellers earn as an individual member of the Qantas Frequent Flyer program.
As long as you have an ABN and are registered for GST or incorporated as an entity, your business can join the program and earn points on every eligible flight from the first flight taken.
Eligible Qantas flights include Emirates and American Airlines flights with a QF flight number.
Plus, you get exclusive savings and discounts on flights all year round.
2. You can redeem and give away points as you choose
The Business Rewards portion of your points go to a central account. You can then allocate them into the frequent flyer accounts of your choice, at any time. So they can be used for business travel, holidays, staff gifts, to save on business expenses - it's your choice.
That makes the program more exciting and rewarding, not just for your business, but your employees too.
3. Your earn points and save on day-to-day expenses at 40+ business suppliers
One of the biggest benefits is being able to grow your points balance every day through a huge range of excellent program partners.
This is not a list of obscure companies with offers that you may think about using once in a blue lunar eclipse.
These are companies you know that provide the products and services you use every day to run your business - fuel, accommodation, energy, cleaning services, offices supplies and many more.
Plus, they often promote exclusive deals for program members.
As we mentioned, Snap is delighted to be the Business Rewards program partner for print, design and website products. It means we can now offer you even more value as a client than ever before.
You can see all the partners here.
2 extra-big benefits of joining Qantas Business Rewards now
1. Earn double reward points with Snap until June 30
As a Qantas Business Rewards member, every $1 your business spends on any print, design or web product at Snap will earn you one point.
Better yet, as a launch offer until June 30, 2017 we're offering double points for every $1 you spend with Snap. In other words, it's twice as easy to earn free flights for doing business as usual.
2. Get FREE membership until June 30 (Save $89.50)
Not only will you save money and earn points from your very first flight and everyday business spend, it doesn't have to cost you anything.
If you join between now and 30 June, your Business Rewards membership is free!
With nothing to risk and everything to gain, it makes perfect business sense to join here today.