Why mobile-first SEO could be make or break for your web business
Published: 20 August 2018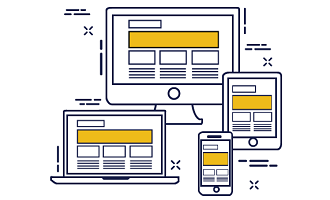 You may know that search engine optimisation (ranking on Google search) is the most effective way to get visitors to your website. But have you done SEO to lift your Google ranking for people searching on mobile phones?
If not, you could be losing more than half of your potential web traffic and business. Even if people search on a laptop or desktop computer.
To ensure your business is the one being seen, clicked and contacted online by as many prospects as possible, you need to know about mobile-first SEO.
And start putting it in to practice today.
What is mobile SEO?
Mobile SEO is when you:
do things to your website to make sure your pages appear as high as possible on smartphones and tablets.
make your site accessible to Google search spiders.
Why is mobile SEO so important?
There are four main reasons why mobile SEO is now a top priority that all come back to a) what users are doing online and b) what Google has done because of it.
Web users are moving to mobile
As of a year ago, more people are accessing the web via mobile phones and devices than desktops and laptops.
According to the official statistics:
52% mobile
44% desktop/laptop
4% tablet
While here in Australia, mobile is not quite there, but rising fast:
51% desktop
39% mobile phone
10% tablet
Two things to take from this trend. Firstly, your website must look good and work well on mobile devices (be responsive).
Secondly, fully appreciate the fact that 95% of the searches people make on those mobile devices are through Google.
So, if you want web traffic online you need a mobile-friendly website with loads of Google appeal.
But isn't it enough if your normal website is optimised? Kind of, but there's more to the story
Google went mobile-first
Because of the growing popularity of mobile internet use, Google first rolled out a mobile-friendly update.
This meant sites that weren't mobile-friendly didn't get ranked high on mobile search results. It was a hassle, but not a big drama if your audience didn't use mobiles very often.
Things have changed. Recently, Google made every search mobile first.
In other words, even when people search on a desktop, laptop or tablet the results they see are based on how SEO-friendly the site's mobile content is.
So, if you don't look after your mobile SEO, you could be pages back in the search results on every device.
Mobile web users are buyers
The terms lookers, bookers, browsers and buyers have been attached to web audiences for two decades now.
But what's becoming obvious now is that when people go searching on mobiles, they're in the state of mind to buy: Google's research shows that on mobiles:
product reviews have increased by 35% over two years
the equivalent of 50,000 years has been spent looking at video reviews
40% like to complete the whole shopping process on their phone.
With mobile-first SEO customers find you when they're ready to do business with you.
Voice search is growing
"Hey Siri, where's the best place around here for pepperoni pizza?"
More and more mobile users speaking to their phones and home devices such as Amazon Echo instead of typing in search queries.
In fact, Google has revealed that more than 20% of searches on an Android device are voice searches.
So, it's important that your content matches the kind of things people say when they're searching for your products or services, and not just what they type.
6 steps to optimising your site for mobile-first
1. Do a Google mobile-friendly test.
2. If you have them installed, go to your Google Analytics/Search Console reports to see how much traffic is coming from mobile. That way you can see if there's a problem and also measure improvements as you make SEO changes.
3. Make your website responsive - we spoke about this earlier, but it's the key to everything so we wanted to make sure you didn't forget.
4. Speed up your website - if a site takes longer than 3 seconds to load, an average 53% of your visitors will leave. Mobile users don't want to wait longer than 1-2 seconds.
5. Tweak content for mobile visitors - headlines with important words at the front, add keywords and related words, include questions, use the phrase 'near me' if you're a local business, add share social share buttons (80% of social views are done on mobiles).
6. SEO your technical side - have a sitemap, secure your site with https, add schema markup that tells Google what the page is about and which parts to highlight in search results e.g. star reviews, recipes, products, etc.
With audiences and Google moving to a mobile first world, there's never been a more important time to make sure your website works as well as it can on phones.
It may mean a bit of work, but the ROI potential is enormous. And if your competitors aren't making the changes, it could also mean half of their customers coming your way too.
If you need some expert help with mobile web design and marketing, contact your local Snap Centre today
Author:
Snap Franchising Ltd