Snap 2021 Virtual Awards Event
Published: 13 March 2021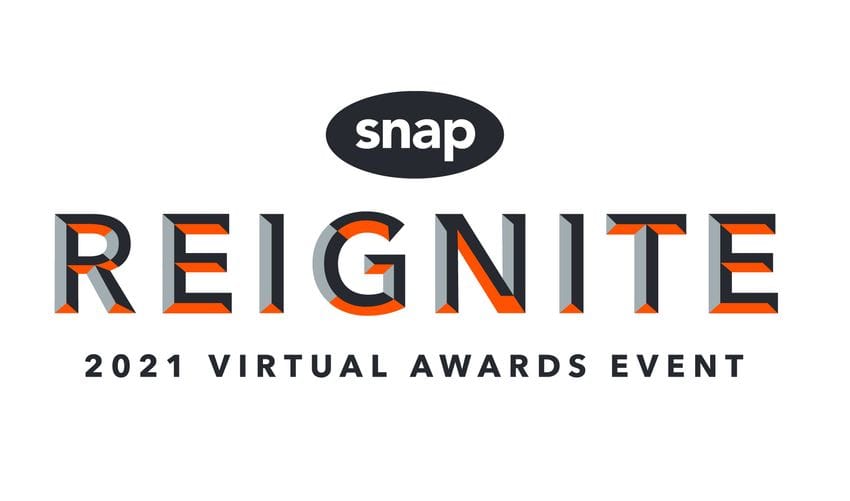 On Thursday March 11, SNAP presented 'REIGNITE' - the 2021 Virtual Awards Event. The event recognised the achievements of the Snap Print & Design network, celebrating in particular the winners of twelve award categories. Finalists and award winners were announced via live-broadcast from studios in Sydney, with live-crosses to Snap Centres across Australia throughout the proceedings. Pre-recorded videos invited the Snap network to 'REFLECT' on its journey over the past few years, and to 'REIMAGINE' the brand and business into the future.
Here are some highlights from the event.
'REIGNITE' Event Invitations
While the initial 'Save the Date' advice was communicated via email, the event invitation which followed showcased how great design and speciality print finishing can be employed for maximum impact and engagement.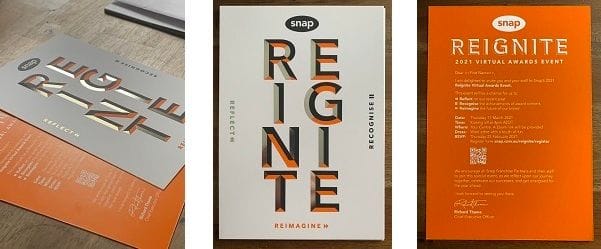 'REIGNITE' Party Pack
In the lead-up to the event, 'REIGNITE PARTY PACKS' were delivered to Snap Print & Design Centres across Australia, to help get preparations for the celebrations underway.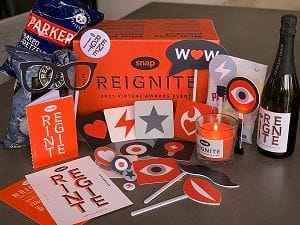 Containing goodies such a sparkling wine, party snacks, novelty party props, coasters, badges and even a scented candle, the REIGNITE Party Packs showcased how design and print can be used to strengthen engagement, particularly important for 'virtual events'.
Setting up the Live-Broadcast Studio with Signage
Rather than just the standard black drapes behind the presenters, the live-broadcast studio was transformed withprinted themed media walls, topped off with lectern signage.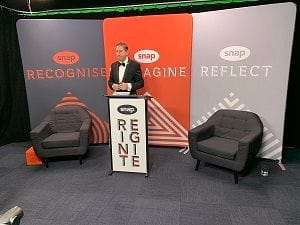 'REFLECT' - Our Journey
In the first segment of the event, a video was played reflecting on some of the significant challenges, developments and achievements of the Snap Print & Design business over recent years. Click on the image below, or here, to view the video on YouTube.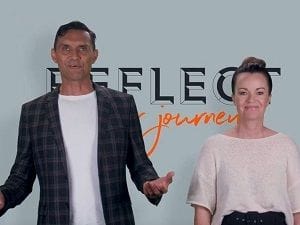 'RECOGNISE' - Award presentations
Employee Anniversaries - 10+ Years
The award presentations started with recognition of milestone Employee Anniversaries. Across the Snap Network, 43 employees were recognised for 10+ years of service, with four celebrating 30+ year anniversaries!
As a 'people business', Snap thanks and congratulates these loyal and committed employees who deliver the superior customer for which the Snap brand is known.
Centre Anniversaries - 10+ Years
Sixteen (16) Snap Franchise Owners were recognised for reaching their 10-year, 20-year, 25-year and 35-year Centre Anniversaries.
Congratulations to all these Snap Franchisees for their business success over the long-term.
Achievement Awards
Awards were presented to Snap Centres in the following categories.
'Commitment to Customer Service' Award
'Best in Class During COVID-19' Award
'Snap Rising Star' Award

Aaron Edmonson, Snap Rockdale

National Sales Achievement Awards

Tier 1: Snap Bankstown
Tier 2: Snap Richmond East
Tief 3: Snap Wetherill Park / Smithfield

State Awards (finalists in Paddy Thompson Award)

South Australia: Snap Adelaide, Flinders Street
Western Australia: Snap Midland
Queensland: Snap Southport
Victoria/Tasmania: Snap Campbellfield
New South Wales/ACT: Snap Rockdale
Paddy Thompson Award
The Paddy Thompson Award recognises Snap Centre achievement and contribution across a range of criteria including Snap Citizenship, Brand Image and Operational Compliance, Participation in Snap Forums, Take-up of New Initiatives, and Sales Focus and Achievement.
Congratulations to Snap Rockdale on winning the Paddy Thompson Award. A video of the award presentation to Snap Rockdale by Snap Franchising Limited CEO Richard Thame can be watched on YouTube here, or by clicking on the image below.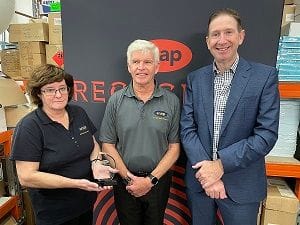 Murray Read-Smith Lifetime Achievement Award
The prestigious Murray Read-Smith Award recognises an individual for their lifetime achievement with and to the Snap brand. Award criteria includes Snap Citizenship, Longevity of Tenure, Contribution to Snap's Success (beyond their own Centre's), Mentoring and Development of Staff, Passion for the Snap Brand, and High Ranking in Customer Feedback.
Congratulations to Rod Harrington from Snap Laverton North on being presented with the Murray Read-Smith Award. A video of the award presention by Snap Franchising Limited CEO Richard Thame can be watched on YouTube here, or by clicking on the image below.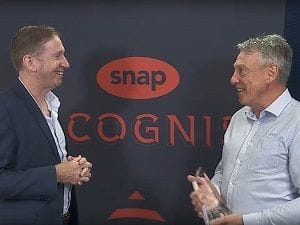 'REIMAGINE' our Future
The 2021 Virtual Awards Event concluded with presentation of the 'REIMAGINE' video, looking ahead to the future for the Snap brand and business. Click on the image below, or here, to view the video on YouTube.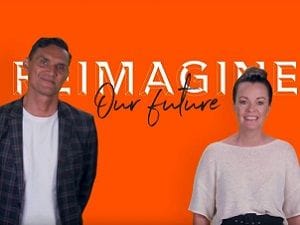 Congratulations to all the Snap 2021 Virtual Awards Event winners!