The value of a strong community presence
Published: 13 June 2011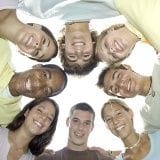 Despair to determination
We run a Snap centre in Sumner Park, Queensland. While we are like all small business owners in that we are usually flat out with the day to day running of our business, we try to operate in a way that means our business makes a positive contribution to our local community.
Usually, we don't see the true value of our links to our local community.
But this year, when the floods struck Brisbane, we saw it first-hand.
We are located in a small business precinct in south west Brisbane that was heavily hit by the floods. Many businesses like ours were severely flooded, with the complete write-off of production equipment, stock and business records.
When the waters receded, it was heart breaking to see the level of destruction that the flood waters had left behind, not just in Sumner Park, but across so many parts of Brisbane.
The initial shock of seeing your livelihood destroyed was quickly replaced by a determination to tackle the mess. And the number of people that just turned up to help out was completely unexpected but so very much appreciated.
Business people and local residents turned up with brooms and shovels and just pitched in. Others turned up with sandwiches and drinks. The community spirit was wonderful and the positive mood of 'getting on with the job' was contagious.
Being part of a national franchise, we were lucky to receive support through our franchisor. But what really encouraged us was the way the local community pitched in to help.
Local business that have been clients and colleagues for years, including Fixzit, Real Car Care and Tint Mart, generously helped us out, meaning that we were able to open again by the end of February. Real Car Care and Tint Mart themselves had been completely flooded, but still found time to lend a helping hand when they saw we could use it.
And loyal clients waited for us to return to business instead of taking their business elsewhere.
While we are now back on our feet, there are still many small businesses and local residents that are still recovering. As a means to contribute something back to our local community, we decided to host a Biggest Morning Tea in support of the Cancer Council. It was an opportunity for us to thank the people that had helped us, while also giving something back.
The community spirit that emerged following the floods has persisted and our local community is stronger for it. Everyone has their story, whether as a resident or business owner affected by the floods, or as a volunteer that helped in the aftermath. If there is a 'silver lining' to this disaster, this is it. And we aim to be an ongoing part of that renewed sense of community in south west Brisbane.