Snap Williamstown Rides to Conquer Cancer
Published: 3 May 2013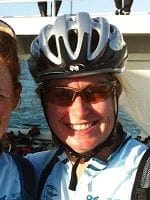 Riding for a good cause
This year, I am participating in The Ride to Conquer Cancer, a 2-day, 200km cycling event on 26-27 October, 2013 that raises funds for cancer research and treatment. All proceeds from the event go to the Peter MacCallum Cancer Centre, the only public hospital in Australia solely dedicated to cancer.
Cancer is something that has touched all of our lives in some measure. It's my goal to put a stop to that and The Ride is how I am doing my part. That's why I am so passionate about raising funds. The Ride has been on my mind since its inception last year and this year a very good friend of mine asked me to join her to motivate her to do this. As you can probably guess, we both have very good reasons to fundraise for this very worthy cause. Eliza is doing this in the memory of her mother, and for me I have lost two beautiful people in my life to this horrendous disease.
I have set up a Team Called SNAP WWBUG this is a collaborated team for anyone who wants to join us. SNAP is the corporate side of things, with myself owning two Centres at Williamstown and Melton, and I'm hoping to get some of the other Snap Centre Owners behind me to ride this. Part 2 of our team is the WWBUG - this stands for Western Women's Bike User Group. This group has been set up to encourage more women to get out there on their road bikes, as a group we have competed in the Pink Triathlon (Breast cancer), Bridgewater Triathlon Around the Bay in a Day (3 times The Smith Family), the Otway Classic, and the Ride for Bikes Cambodia.
So, you may ask, how do I find the time for this bike riding between managing two Snap Centres and a family? Well I'm usually up at 6am and out the door for a walk, run or ride. I also try to ride to work at least a couple of times a week that's a 55km round trip. I'm also very lucky to have a very understanding husband, he's the kind that likes to sleep in on the weekends so I can be out with the girls for a bike ride and back before he has had breakfast. And the kids are now very independent so as long as I'm back by 9.30 10am it's usually OK.
I will be raising funds and training hard so I can make a huge impact in the fight to conquer cancer - but I need your help. I need to raise at least $2500 to rideIf you would like to make a donation to my fundraising account is here. Any donation that you can give is greatly appreciated.