Snap Milton delivers ... come hell or highwater
Published: 15 February 2013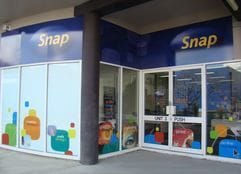 One satisfied customer
We had been offered the job of producing 102 Report manuals on behalf of a mining company from our client. The job was a large one, with over 75,000 colour prints both A4 and folded A3 pages, tabs and binder material. Timeframe given to us was 9 working days and we had the one extra week-end before delivery as an advantage. Together with the Queensland Hub we produced the manuals on time and were to send them out on Friday afternoon 25th January to my client. It was however raining on Friday so I thought it best to keep the job here until Tuesday of the next week, after the Australia Day long week-end. Little did we know that there was more rain to come and the possibility of flooding here at Black Street once again!
Over the weekend, the most precious thing in our Centre became 34 Archive boxes with the client's job in them. We moved the boxes upstairs to another company's office on Sunday morning and had a rather restless waiting game all week-end. Tuesday morning, we organised a courier to come to collect the boxes and then the flood water started gushing up the drains. The courier driver was very good, the police let him drive up the grass verge as this was still dry, whereas the road was beginning to flood. The boxes were safely placed in his vehicle and then with a police escort he was allowed out of the Milton area. Our job was delivered safely to our client and still the water was rising!
Natalie (my client) sent us such a rewarding note that I would like to share as it reflects the fact that all the Snap Centres I know would have offered the same level of service and that Snap Milton is still proud and pleased to be part of the Snap Group.
What with bushfires and floods hopefully we can get through all these major hiccups in our lives and let 2013 be a more positive year ahead of us all.
"
The boxes have been received by our office and I have just finished going through a full set of the EIS. I must say, once again SNAP Milton have provided us with an outstanding finished product and service! I cannot thank you all enough for your hard work and achieving such a huge job with such a short deadline. The presentation of the EIS is truly superb and we could not have replicated the final product in house ourselves like what you have. Thank you, Thank you, Thank you!
I do hope that your office is not affected by the floods today - I am thinking of you at this testing time.
I saw the Queensland Police Service have issued a statement that Black Street, Milton is flooding and the courier confirmed this when he arrived just now.
I look forward to seeing you in person this week so I can thank you again face to face. "
Natalie | Corporate Support.