Snap Homebush Bay exceeds customer expectations
Published: 26 May 2015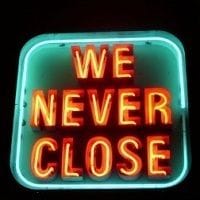 When a client is in a pinch the team at Snap Homebush Bay are happy to help. We love this prime example of Snap Homebush saving the day!
Joshua Green owns and operates Phoenix Entertainment Live which provides services for large music events in Australia. He speaks in a glowing fashion of the customer service he receives from Snap Homebush Bay saying that it is unforseen anywhere in the business world.
Joshua penned the following to Rob at Snap Homebush Bay,
"I was managing an event and the production team couldn't get their accreditation completed in time (it was the day before the show) at 9pm we began talking about the accreditation being sent to the printers.
Given the show was in 15 hours, there was no way we could print the morning of. So, I put in an SOS call to Rachel and she kindly agreed to print and prepare the accreditation for our show. 5 hours later, the accreditation was printed, labelled, separated and prepared for the show and Rachel delivered the prints to our office in ANZ Stadium at 3am.
We love doing business with Rachel and Snap as someone is always there to assist where no one else can, even if it means personally delivering prints to the Hunter Valley for me (which has happened more than once) I look forward to doing business for many more years.
This is exceptional customer service because;
True display of Rachel's ability to deliver at all costs
Client expectations were exceeded
No job is too big or too small
Every job is delivered on time, even under pressured circumstances"
Excellent customer service Snap Homebush Bay! Always exceeding customer expectations.