Our new national ad campaign
Published: 16 August 2011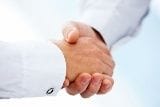 New marketing campaign, almost ready
I have been a bit quiet of late because we have been working madly getting ready for our new marketing campaign launch.
We are really excited about it.
It is a national campaign that breaks away from the traditional print advertising mould.
It is all about relationships.
After all no matter what our clients come to Snap for printing, business cards, a website what they really want is to connect and maintain a relationship with their customers.
So the premise for our campaign is that Snap is an introduction agency for small business.
Our ads feature 'unlikely couples' who have developed business relationships. The campaign also includes a standalone website - snapmeup.com.au - which again is modelled loosely on an online dating site.
While there are fun aspects including videos featuring our 'business relationship guru' Tim snapmeup.com.au also provides visitors with the range of products and services Snap provides to help them attract new clients and the chance to win a $5,000 business makeover.
The whole concept was created by our wonderful creative agency, Equilibrium, who have done a great job pulling it all together.
So far we have had really good feedback internally but the real test will be when it goes public.
Let me know what you think!