How to create engaging social media graphics and images
Published: 25 June 2015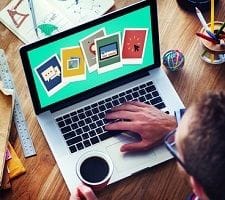 Give today's social media users what they're looking for: high quality, visual content.
Stats from Twitter show that tweets with images average a 35 per cent boost in retweets, while research from eMarketer found that Facebook posts with images claimed 87 per cent of total interactions.

Be confident your graphics and images are as engaging and eye-catching as possible with these top tips.
Always be brand-friendly
Social media sites put the emphasis on personal connections, but when it comes to business you should always have your brand at the forefront when choosing images. That doesn't mean you should be stamping your logo on all your pictures it simply means being mindful of your company style and ethos at all times.

For your profile picture or avatar, you do need a brand-centric image, but you can be creative about the style. From a logo stamped on a tote bag full of flowers to a branded surfboard stuck in the sand, there are hundreds of ways to establish your own style on social sites.
Create a cohesive style
Try including your corporate colours in as many images as possible by creating a colour palette to guide you. You could also think about applying select filters or borders to your images, giving them a cohesive look even when the subject matter varies. Make it easy to stick to your company's style by creating a template for all uploaders to use.
Get the size right
Some social sites can be relied on to scale images to suit their feeds, but not all of them will. When uploading an image, it's best to first tweak it so that its size and aspect ratio is just right. Designed to meet custom sizes and settings for a whole range of feeds, the Social Image Resizer Tool makes this nice and easy, no matter how many different places you're planning to use your image.
Consider composition
It's also worth taking composition into consideration, as sites such as Twitter and Facebook tend to display images as landscapes. This means that square or vertical images may be automatically cropped in people's timelines so they'll only see the full picture if they choose to click on the link. On sites such as Google+ and Pinterest, the opposite is the case, as they use a portrait style.
Perfect picture tools
When you're editing photos to fit a Facebook profile, the Timeline Slicer app is an excellent tool. It creates a mock Facebook page and allows you to edit and perfect your photos so you can create the most harmonious and perfectly positioned pictures possible before posting them on your real profile page.

In a highly visual online sphere, no business can afford to create a social media campaign that doesn't boast great images so get snapping.

Need some help marketing your business online? Contact your local Snap Centre.