Five reasons why site navigation is crucial to a successful website design
Published: 3 February 2015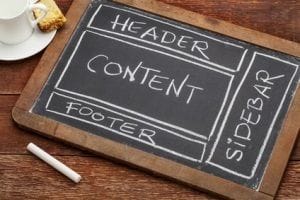 While it's important to have a website that looks great and is full of useful content, poor site navigation can undo a lot of that good work.
Acting like a map for visitors and providing the information you want them to see, site navigation should be clearly visible, practical and help drive leads or sales conversions. Check out our top five reasons why you must make it a priority when designing your website.
Hidden content
Website content is becoming more and more important as time goes on, but if your navigation makes it hard to get around your site then visitors aren't going to be able to find it. Make sure to include a Content or Blog section in the navigation bar or menu to point people in the right direction, otherwise all the time and money you've spent creating informative articles, useful videos and demonstrative infographics will be wasted.
Annoyed users
Most visitors will arrive with a purpose to get more information, to make a booking or to buy something. They'll expect a clear and easy way to do this, ideally with as few clicks as possible, and if they can't then they're going to get frustrated and find a different site to visit. Common navigation hurdles include links that go around in circles, pages that don't answer what was promised and unclear icons such as an open book, binoculars or a magnifying glass to search the site.
Different entry points
While a large majority of visitors will come to your site through your homepage, many first-time visitors will come to it by searching for something specific or following a link from another site. It's important to create a website that caters to all types of visitors so that it's immediately evident where they are and how they can get to other parts of your site. A well-designed homepage is important, but it's not the be all and end all.
Improved SEO
As well as visitors enjoying a well-organised site, search engines appreciate the effort too. Search engines such as Google and Bing investigate not only a site's content, but how it all fits together. If you have an amazing page of content with only one link going to it, it won't be deemed as important as another page that has numerous links. Obviously you don't want to go overboard, but making sure there are a number of different ways to navigate your site will help point search engines in the right direction.
Consistent navigation
Nothing is more confusing than a site that keeps changing its mind users want continuity in navigation. Make sure the links in the navigation bar or menu normally at the top or the left-hand side of a site stay the same throughout and that linked text or images are always formatted in the same way. By mixing things up, users may miss out on important links or get confused when they click something before realising it doesn't work like a link on a previous page.
Contact Snap for help creating a website that's as creative as it is user-friendly.