Content writing made easy - 5 pro tips you need to steal
Published: 9 September 2016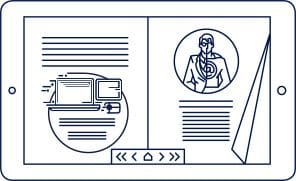 If you're busy running your business, how do you find the time, energy and enthusiasm to keep coming up with ideas that will appeal to your audience?

And then weave them into content that gets read, ranked and shared?
Here are five tactics and tools used by professional writers to make content creation faster, simpler and more effective.
Spot potential topics everywhere
We have access to so much information at our fingertips these days - on the web, in the news, on TV, etc. Look for ways to weave stories, events, statistics, etc into a content peice, or be the story itself.
Get an idea of what people are interested in learning about through free search tools like Google and keywordtool. Look at Quora for questions around your topic.

Even if you don't use all the information now, store them for a later post.
Create a content calendar
One of the most painful parts of content creation is having to constantly coming up with new ideas. Instead, put in a few hours in one go mapping out a three or six months content calendar.

Not only will it save you time every week or month trying to conjure up your next big hit blog, you'll have the opportunity to create and publish content in a smart, strategic order.

It means you can to boost your authority, trust rating and SEO as you take readers on an educational journey and may well lead to new business too.
Speak to your audience like you're having a convesation
When we write, it's easy to get bogged down in jargon and business speak. This doesn't connect you with your audience. And it doesn't make writing an easy or enjoyable.
One of the best ways to overcome this habit is to imagine that you are having a conversation with your reader. So in your content:
ask questions to get them involved in the conversation
use words they use and understand
contract words e.g. can't instead of cannot, etc.
This doesn't mean speak casually or dumb down your message.
The way you speak to someone about a holiday is going to be different to the way you speak to someone about a financial issue. But there's no reason to load either conversation with baffling jargon and unemotional language.
Learn to speed write
Tired of staring at blank pages?

Don't worry. It's an occupational hazard for even the most experienced copywriters - usually due to fear, lack of knowledge about the topic, or plain old procrastination (hello Olympic Games on TV).

Here are some techniques to help you pump out quality content faster:
Break an idea into small parts create an outline starting with bullet points for each paragraph.
Use your phone stopwatch or an egg timer to allocate a specific amount of time to finish the first draft (maybe 20 minutes).
Just write and ignore your internal editor forget quality and grammar for now, just go for it and jot down everything that comes to mind, then fix it up later.
Instead of stressing out about how to start your piece, write your conclusion first and your introduction last.
If you have the luxury, sleep before doing your final edit. Your subconscious will work on your piece overnight and you'll wake up with a fresh outlook and new ideas.
Add a meaningful image
Research has shown that content with images gets looked at, read and shared far more than content with no image.
Include elements such as cover images, infographics and illustrations that makes it easier for people to understand concepts, and more enticing to read or scan.

You can find great photos on free or cheap online image libraries.
Content creation is incredibly valuable to any business. However, producing good content can eat up a lot of time and effort. By using these pro writer tactics and tools, the process be faster and simpler and the returns far greater.