A beginner's guide to SEO
Published: 13 September 2012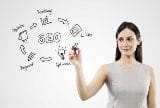 Search engine Optimisation
One of the most effective ways of ensuring your website is working for you is to apply search engine optimisation (SEO).
What is it?
SEO is the process of helping search engines, like Google or Bing, find your webpages.
Why use SEO?
If your website is not properly optimised for search engines, potential clients are not finding your business when they search online. Instead, they are finding your competitors.
SEO aims to increase traffic to your site, which will improve brand awareness and ultimately sales.
How does it work?
The trick is to make your website rank highly when users search for specific terms online.
The following tools can be used to optimise your website:
Keywords: Use the most relevant words and terms that best describe your business across your website and in regular blogs.
Quality content: Search engines look for "fresh" content. Blogs or community activities can capture an audience until a sale is made.
Link building: Getting other websites to link to your site will increase your site's traffic.
Usability: If your site is easy to navigate, search engines will be able to crawl through it better.
Page speed: Many search engines will ignore websites if they take too long to download.
Page-to-page connectivity: If your pages link easily, even the less-visited ones will see more traffic. This will improve your domain authority.
Social media: Engage actively on Facebook, Twitter, blogs, Google+, etc.
Contact Snap for more advice on how we can help your business with SEO.