7 savvy local advertising tactics for your small business
Published: 3 July 2017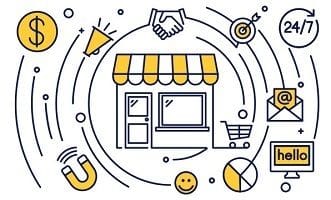 Whether you are a start-up, SME or a biggie, advertising plays an important role in the success of your business. In the modern competitive world, an advertisement could give you an initial edge if only you get it right.
So, how can you play it smart with local advertising tactics? Well, there are ways to get going. Here are some of them.
Make Google My Business work for you
Google My Business is the 21st century version of the Yellow Pages (sorry Yellow Pages, but it's true). With two exceptions. It's white and it's free.
Google My Business was designed to help small business get more visibility on Google search, Google Maps and Google Plus. And to help local people know where your business is, what time you open, how to get there and ways to get in touch. Some things to remember:
Your listing should be with the actual business name
Choose the accurate category
Provide complete profile information
List your phone number
List your opening times accurately - remember the holidays!
Review your photos for accuracy and quality
Create citations on other business listings, review sites and directories
Keep your data up to date to include changes, if any
Work on your local SEO
Search engines are getting smarter and they use structured data to find out what your site is about and which elements represent what.
If your business relies on local traffic and customers, your priority is to get to the top of local search pages. There's little benefit in your business showing up as a generic term such as 'gardener' for someone in Melbourne, or the other side of Sydney, if you service people in a small part of Sydney.
Plus, it's highly unlikely you could get ranked high for a term like that without pouring ridiculous amounts of time and money into making it happen.
Instead, you want to focus your topics and pages around your suburb or locality. So pages that refer to 'gardener in suburb x', content on your area - videos, photos, news, etc.
Local SEO ranking is based on factors such as:
Relevance - how well your business matches the search request.
Consistency - Make sure your name, address and phone number are consistent across the web and marked up in schema on your site (ask a web expert how to do this is you can't).
Distance - A gardener located in Melbourne cannot rank in a local search for gardener in Sydney, so mention your suburb in your titles, headlines and pages often.
Prominence - Activity around your listing such as reviews, events, local content and so on.
Attend local events
This can be an incredibly powerful offline local advertising strategy as you are immersing yourself in your community, supporting them and putting a face to your business.
So participate in events that you think your potential customer with attend. it could be a trade fair, village market or community gathering. Consider things like flyers and posters to inform people you will be at the event, banners to get noticed on the day and promotional items to hand out so you stay at the top of their mind after the event.
Tag yourself
Social media hashtags are powerful advertising tools, so use location hashtags to promote your business. Location tags stand out and make it easier for customers to locate you and find you. Use local hashtags for your city, state, or town.
Connect with a local influencer
If you know any popular local bloggers or trusted people in the community, see if they would be willing to write a blog or do an Instagram post endorsing your product or service. You should do this by offering a free product or service and only if they actually like it.
Stick up some posters
Posters are hugely effective for local advertising. With resilient finishes now available you can place them both indoors and outdoors where high quality traffic pass by. You can also put your posters on local buses.
Ask for online customer reviews
How did Amazon go from a little online bookstore to the second biggest retailer in the world? A big part of it was showing customer reviews for all of their products.
No matter what message a business says about itself, it can never have the same power as the opinion of another customer. And in a local community, where people may even know some of the reviewers, they are even more influential.
And if that doesn't convince you, perhaps these recent online review statistics will:
72% say reading positive customer reviews increases their trust in a business
88% of people trust online reviews written by other consumers as much as they trust recommendations from personal contacts
It takes, on average, 2-6 reviews to get most people to this point
So ask your customers to review your service on your Google My Business page as well as popular review sites such as Word Of Mouth, Product Reviews, True Local and Nabo.
Local advertising doesn't have to be expensive to be effective. Focusing your efforts into some of these proven and affordable strategies that many small business owners don't know about, understand or do well, can have a quick and noticeable impact on your leads and sales.