7 Print Marketing Mistakes That Could Cost You Thousands
Published: 11 July 2018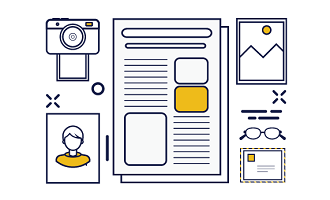 From brochures, flyers and posters to direct mail and ads, print marketing done well is like a giant SME fishing net, pulling in huge hauls of new leads and sales.
However, little mistakes can slash big holes in that net -- and when it's all too late, businesses can only sit and watch potential customers slip away.
Here are seven common print marketing errors that are easy to make, and how you can turn them into profit-boosting bait.
1. Leaving out important details
We're not just talking features and benefits here. Businesses have forgotten to include lifeblood information such as their phone number, web address, email, and even the businesses name! No matter how good the offer, it's no use if customers can't get in touch to take it up.
Always do a proofread to ensure your contact details and other integral information is there.
2. Obscuring the company name
Making your business name difficult to read or too small for passing traffic to notice, is not quite as bad as forgetting to include it altogether. However, it's could be bad enough to cause a lot of your money to get sucked down the drain.
Ensure your brand stands out on every piece of print marketing ideally in a big font and contrasted with the background.
3. Spelling and grammar mistakes
Customer studies have shown that misspellings don't just irritate customers, but they can also impact the credibility of a business. People feel that spelling mistakes in marketing materials show a lack of care that probably runs over to products, services and the way staff look after clients.
Unlike on the web, you can't change a mistake in print once it's out there. That's why a quick spellcheck could save you thousands in missed revenue.
4. Ambiguous language
When people don't understand your marketing copywriting, or mistakenly read your message as something different than intended, they're unlikely to buy.
To add some power to your words in print:
avoid jargon and buzzwords that your audience may not understand
use plain English
leave out hyperbole e.g. ultimate, flawless, etc.
be specific e.g. don't say 'we offer great value', say 'Save 15%
5. Meaningless images
A picture's worth a thousand words, except when people have no idea what it's about, then it's not worth the paper it's printed on.
Images are often the first place that eyes land on any print piece. They can quickly build customer curiosity and excitement, or they can lose prospects to something more interesting in the blink of an eye.
Abstract and irrelevant images waste people's time and don't do anything to convince customers to learn more or buy.
Whether you use a photograph or illustration, make sure it focuses on a feature, depicts a benefit and means something to the audience.
6. Dodgy design
Like spelling mistakes bad design can crucify your credibility and trust.
While you don't need to spend a fortune to get stunning, high conversion print design, if your marketing looks cheap, people will think your business is too.
Investing in smart professional design help will pay for itself tenfold in business.
7. No urgent call to action
Linked to the top point is the last piece in the puzzle forgetting to tell readers what they should do next e.g. call today, visit your store, act now or log on to your website, etc.
Not only do you need to clearly direct your audience, you should give them a little nudge so they don't leave your offer until later, such as a:
limited time only special deal
free trail
discount
exclusive cut-out coupon
Print marketing is an incredibly powerful and cost-effective way to generate recognition, leads and sales for your business.
It's important to avoid simple mistakes that can quickly turn a reader from a hot prospect to a missed opportunity.
If you'd like some expert help with your campaign marketing, design and printing, talk to the experts at your local Snap Centre.
Author:
Snap Franchising Ltd