6 Money saving and making tactics for the new financial year
Published: 31 July 2017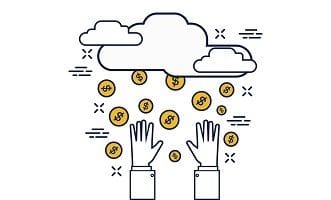 Somehow, we're already halfway through the year. And for many of us, flying through the months means we haven't had time to manage our finances, or tick off our must-do list, any better than we did at the start of the year or even 12 months ago.
So before you get back to work and then look up to find yourself in December, here are some powerful, yet simple, ways to better manage your finance stuff and give business a lift.
Set some definable goals
Think about what you want to achieve this financial year and set out your goals and strategies accordingly. For example:
Do you want to target new customer segments?
Are you looking at new business partnerships?
Are you looking to invest in technology?
Do you want to strengthen your team by hiring new people?
Write down each goal, along with a deadline and the criteria for success. Once you know what you're aiming for, it's easier to head for and achieve your goals.
Budget and forecast your cash flow
Once you have set your goals, you can assess what you expect to spend and earn in the new financial year. This will help you to prepare for the costs ahead and to avoid nasty surprises.
For example, creating a budget sheet in advance will help you avoid over-spending. To do this:
Look at you rsale cycle from last year, including lean and busy periods.
understand your growth and profit patterns.
Manage your cash flow
Once you determine your cash-flow forecast, you can agree on how your company is likely to grow in the new financial year. Good management of your cash flow allows you to see whether your business is in profit or loss.
Make sure your business stays liquid to meet all your monthly financial obligations, from rents to loans to salary to vendor and utility bills.
If you got paid for sales the instant you made them, you would never have a cash flow problem. While this may not be possible, offer your customers early payment discounts and keep credit requirements strict.
Automate with a software accounting tool
Effective cash flow management requires efficient bookkeeping as well as a strong process for credit control. Technology has the ability to automate and manage anything from cash flow to invoicing and tax returns and ensure that these are accurate.
Automating accounting processes with an efficient software accounting tool will free up time for staff to focus on other activities. Reliable accounting software like QuickBooks, ZohoBooks or FreshBooks can help you take a check of your financial pulse.
Improve your online presence
More than 75% of people find businesses via search engines. Your website and social media pages are often the way people come across your business.
Having a good mobile-friendly website, writing helpful blogs and listing your business for free on Google My Business can quickly boost your search results and leads.
You can further improve your search rankings by adding details to your Google My Business page.
This includes information about your business, photos of your products and services, your team, your special offers, and events on your website and social media pages. It sounds easy, but many of your competition may not being doing it, so strike while the iron's hot.
Start using a CRM
A Customer Relationship Management system can take a lot of the admin time and work out of your day, so you and your team can concentrate on making money. They can do things like:
help you get a clear picture of your business in real time
shed light on crucial information like sales forecasts and returns
organise, track and nurture your leads and customers
measure service activities and business performance in detail.
There are lots of good free and open source CRMs out there, such as Hubspot, Insightly and Bitrix24.
So don't let another year or even another month fly by without biting the bullet and putting these tactics, and anything else on your important to-do list, in place.
It may take a bit of time now, but the enormous rewards of more time, sales and profits, and less headaches and late nights at the office, will make it all worthwhile.