6 efficiency-boosting sites every small business should have in their box of tricks
Published: 13 June 2017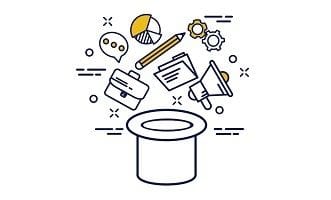 If a genie granted a small business owner three wishes, our guess is that unlimited people-power, time and budget would be right up there for consideration (ok, after the desert island, red Ferrari and world peace).
But while we can't help you find your own wizard in a bottle, we can point to the next best thing. The magic of the internet.
One of the best things about the web - at least for business owners - is the amazing range of tools available to automate mundane tasks, manage your business, communicate with others and save you time.
Not only do they enable you to better focus on important business, most of them are free too.
Here are six sites and apps every small and medium business could benefit from right now
1. Evernote - your e-filing and organising cabinet
This free (or optional premium paid) service makes it easy to save and smartly file content from across the web with a click, create your own documents and audio, and share your notes across all your devices. It's the perfect place for business notes, PDF documents, daily plans, reference material, and images.
2. Freshbooks - painless money stuff
Small business accounting can be a headache - with invoicing, bill payments, expense reports, and financial reports to be taken care of. Freshbooks is a great way to keep a tight grip on your finances.
It has a wide range of features for all types of small businesses and includes handy tools automate tasks, track expenses, time, and keep track of clients and invoicing.
3. Meetup - networking without wasting time, travel or business cards
Looking to connect with the right kind of people who have similar business interests? Meetup is a global social network that will give you an opportunity to network, explore new things, know about any business events that interest you and develop possible business relationships along the way.
You can create an account, attend events and join a Meetup Group - all free of charge. It is the best platform for advertisers to reach out offline and establish prospective clients.
4. Entrepreneur on Fire - inspiration for your ears
Want to hear about other entrepreneur's stories, learn from their mistakes and be inspired by their unique journeys? Subscribe to the Entrepreneur on Fire podcast where you can listen to professional interviews of entrepreneur's talk about their journey, their worst moments, their 'Eureka' moments, the lessons they've learnt along the way - and how to apply their experience to your own business.
5. Skype - free and low cost video chats
As a business owner, you need to keep in touch with employees, clients, suppliers, prospects and more. That can get costly and time-consuming through mobile and long distance calls, going to meetings, travelling, etc.
A video conference call is almost like being there - except faster and free. At least it can be if you use Skype's unlimited minutes of free video calls. It is a great way to connect via video on a computer or mobile devices.
6. HootSuite - social media management made simple
With the rise of social media, all businesses need a presence on social networks where their audiences roam - be it Facebook, LinkedIn, Twitter, Instagram, Pinterest, or others. But how do you manage all that social business when you don't the free time and can't afford to hire someone else to do it?
With a multiple social media profile manager like HootSuite, you can easily organise and automate all your social media posts and updates, measure your performance, get to know your customers well and build a strong brand experience.
So if you need to invest more of your available time, resources and budget into the things that will grow your business, there's one simple trick that can make your wish come true. Get on the web and start exploring some of incredible tools that were made to business owners just like you.